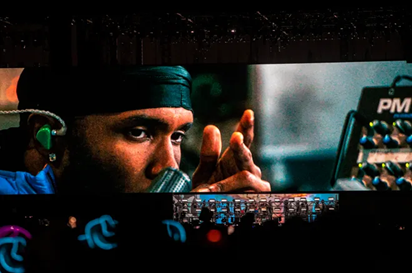 Brandon So | Staff Writer
On Apr. 16, Frank Ocean took the stage at Coachella for the first time since 2017. Frank Ocean was one of the headliners at Coachella this year, performing a set of his hit songs and previewing new ones. This is Ocean's first public performance since 2019.
The Coachella Valley Music and Arts Festival is home to one of the biggest music festivals in the world. Coachella typically draws in an annual crowd of 250,000 people each year and takes place at the Empire Polo Club in Indio, California.
For Ocean, this is his first return to Coachella in six years, where he performed some of his most popular songs from his award-winning albums Channel Orange, Endless, and Blonde. In the six years following his performance, Ocean has released numerous singles. This performance has led many of Ocean's to speculate about a new album dropping soon.
Frank Ocean fans have been searching Twitter and Reddit in anticipation of Frank Ocean's performance. Coachella removed him from the streaming schedule after publishing this article, leaving fans in utter disappointment. Fans who were unable to attend the festival will have to find a different method to watch the performance.
Fans who opted in to see the performance live have been waiting as long as 10 hours in front of the stage, in hopes of getting a good view of the show at 10 p.m. With Frank Ocean starring as the headliner for the festival, people can expect massive crowds and long lines in preparation for the performance. Ocean's set is to be performed on the main Coachella stage following Bjork's performance.
Ocean took the stage approximately one hour later than the scheduled time. He performed some of his most popular songs including "Chanel", "Godspeed", and "Novacane". Ocean shocked audiences by playing remixes of his classic songs, like a rendition of "White Ferrari" with an electronic twist. Fans have already been speculating on the future release of these remixes.
After a few song performances, Ocean took to the mic to talk to the audience about his performance and his presence at Coachella. He stated that his life has been rather difficult the past few years, mainly due to his little brother, Ryan, who unfortunately passed away a couple of years ago. He explains that he used to attend Coachella with his brother and that they used to watch performances while at the festival. Ocean also hinted at a new album to be released soon. Due to the curfew set in place by the festival, Ocean was not able to finish his complete set.
Although Ocean's performance may not have been what fans expected, he still put on a show with great music. Fans hoped to witness his next performance for Weekend 2 of the festival, which takes place on Apr. 21-Apr. 23, but a recent update reveals that Frank Ocean has since then withdrawn from the lineup. It is unknown when we will see him again, but fans eagerly await the aforementioned album in the works.