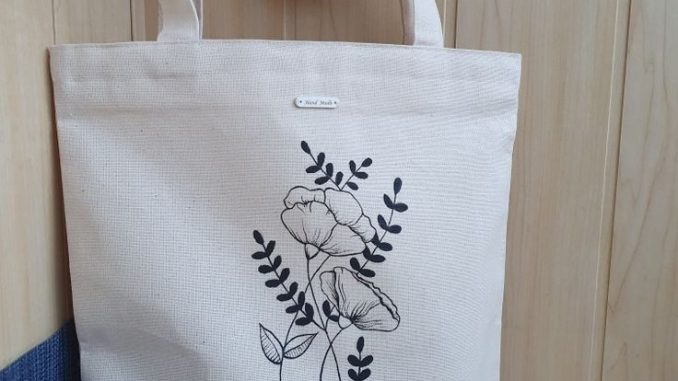 Lara Murray-Sterzel | Staff Writer
On Tuesday, March 21, the Black Engaged and Enlightened Feminist Club, also known as B.E.E.F., held a Tote Tuesday event where students participated in a painting game and had fun with friends. The B.E.E.F. Club is dedicated to promoting a safe community and discussing experiences brought on by complex social inequalities.
The Club held their activity in Fitzelle Hall 131 where they set up snacks, paintbrushes, paint, and canvas bags on the desks. After everyone arrived, the Club asked students to pair up and start grabbing the supplies and canvas bags. Once we collected them, members started explaining the rules. Each partner would take turns being blindfolded and paint the canvas bag with a design of their choosing. The one who's not blindfolded will direct their partner to paint on the canvas bag. When each member was given time to decide what they wanted to paint, blindfolds were handed out and wrapped around their heads.
I was scared to be blindfolded for the first time. I didn't want to disappoint my partner or get paint everywhere. My partner and I decided to paint three flowers in a grassy field. A timer was set for five minutes to complete my part of our painting. My partner placed the brush in my hand and began guiding my arm to each cup of paint. My partner guided me to the canvas bag and gave me careful instructions on what to do with the brush. When my five minutes were up, I removed the blindfold to see my work. I did better than I thought! Next, I gave the same guidance and careful instructions as my partner had done. When each team was done, participants were called to come to the front of the room and present their work.
B.E.E.F. members Jasmine Gray and Dasia Harrigan helped plan the event. When members were asked if they find painting being an easy way to bring people together, B.E.E.F member Ejim Nnate felt a lot of people find painting relaxing. Considering it was the first week back from break, they wanted students to find a peaceful time away from schoolwork. "I see this continuing in the future because I think it's a great opportunity for people to come together and really have fun with it. So, I think this should be a B.E.E.F event we have almost every semester," said B.E.E.F member Wisdom Bealon. They also took this time to encourage readers to check out their club. "It is an amazing club, and we would love everyone who's reading this to come to B.E.E.F. events. Look out for us, we're always around. Say 'hi' to us if you hear our names or something like that. We're very friendly and we love talking to people. B.E.E.F. Forever!"