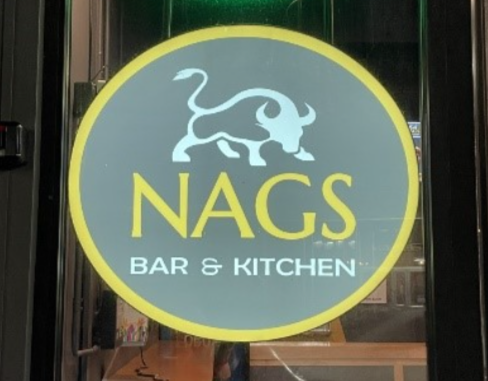 Andrew Dawson, Editor-In-Chief |
NAGS Bar & Kitchen is a brand-new restaurant in Oneonta that sells a variety of food at an affordable price. NAGS is open 6 days a week, closing on Monday, Wednesday, and Sunday at 9 p.m., and 1 a.m. on Friday and Saturday.
My friend and I went to the restaurant on a Thursday night during the dinner rush. We arrived at 6:30 p.m. and were immediately seated at a table close to the bar. The menu was small, but they offer a variety of meals such as their signature NAGS Burger, an 8oz Angus beef burger patty that comes with tobacco onions, Swiss cheese, Korean BBQ sauce, and a butter-toasted bun. Some of the other featured items on their menu are steak, gyros, tacos, crispy ribs and chicken, soup, and salad.
They have eight different appetizers including fried garlic cheese, a hummus plate, and Texas nachos. We decided to order the Texas nachos, and they were huge. They came with corn tortilla chips, bandito BBQ beef, roasted corn, guacamole, pico de gallo, and sour cream. The Texas nachos were delicious and by far the best item I ate at the restaurant.
Shortly after we finished the nachos, our food came out. I ordered the signature NAGS burger with a side of French fries. The NAGS burger looked a little greasy, but it tasted great. It had the perfect amount of Korean BBQ sauce and the butter-toasted bun added extra flavor to the dish. The only part of the burger I disliked was the tobacco onions. The tobacco onions tasted fine, but there were just a few too many for my preference. I picked a couple of the onions off, and the burger was excellent. Now I understand why it's a signature item on their menu.
My friend enjoyed the meatball gyro she ordered as well. The dish was bigger than she expected, and she enjoyed the flavor of the gyro. However, she said it was just a little too spicy for her taste.
We didn't try any of their alcoholic beverages or cocktails, but they offer a variety of different drinks that would complement any meal. Their bottled/canned beer ranged in price from five to seven dollars, and they have a variety of select wines. The cocktail menu also includes exciting drinks like the Crimson Crush and the Nag's Mule. The Crimson Crush is a mixture of Deep Eddy's Cranberry Vodka, with soda and lime. Their Nag's Mule features Tito's Handmade Vodka, Ginger beer, and lime.
They value customer service at NAGS, which was displayed throughout our visit. Our waitress was very professional and checked in to make sure we needed anything. The owner of the restaurant would walk over to tables and ask them if they enjoyed their meal.
NAGS Bar & Kitchen played dining music and had a comfortable and welcoming atmosphere. I enjoyed the food and am excited to return and try other items on their menu. Their restaurant is located at 221 Main Street in Oneonta. Make sure to follow them on Instagram @nagsbar as they post their events and new deals.