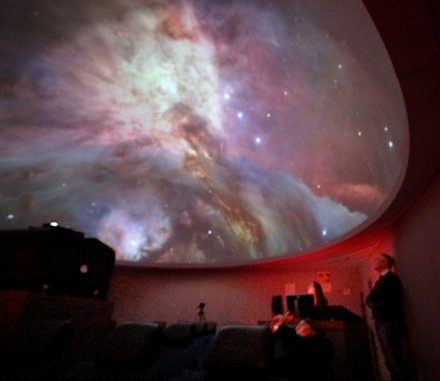 Lara Murray-Sterzel | Staff Writer
On March 23, the Biology Club and Nebula Society held an event in the Perna Planetarium for students to learn about astronomy, space, and a bit of history too. Knowing the first week back from school was going to be tough, the clubs wanted students to take this time to unwind and enjoy their planetarium show.
Club member Skyler Reed welcomed students for coming and gave them a warning that certain flashes of light from the screen could be triggering to those with visual sensitivities. When no one left or showed any concerns, Reed put on a demonstration of stars and solar systems while playing "Feeling Like the End" by Joji. After the demonstration was over, Reed and other club members set up the computer for the main event. Reed explained the showing is called Moonstock, which covers Neil Armstrong's first steps on the moon set to different popular songs from the 1960s.
The first show was footage from the Apollo launch which then turned into a screening of the astronauts' shuttle before traveling to the moon. The song chosen for this showing was "In The Year 2525" by Zager and Evans. The second show was of the powered descent of the shuttle before its touchdown on the moon. The song chosen for this second showing was "The Age of Aquarius" by the 5th Dimension. The third show, which involved no music, showed what it would look like to land on the moon from the astronauts' perspective. This section featured real audio recordings from the astronauts' conversations before the moon landing.
Reed took this time before the next showing to tell us some fun facts about the Apollo 11 launch. According to Reed, before they landed, the team only had thirty seconds' worth of fuel left. This means if they hadn't landed in time, the mission wouldn't have been a success. He also revealed the historical quote "That's one small step for man, one giant leap for mankind" is really a mistake. What was actually said was "That's one small step a man, one giant leap for mankind".
The fourth and final show was of the astronauts' departure from the moon and their return home. This clip featured songs "Crystal Blue Persuasion" by Tommy James and "Sing A Simple Song" by Sly and the Family Stone playing in the background. Before we left, Reed informed students of recent news surrounding NASA and their Artemis missions II and III. Artemis II involves going around the moon, and Artemis III will involve setting up a permanent base on the moon. Artemis III will place the first person of color and woman on the moon, as well. Reed believes it'll help lead us to Mars and another lunar base in the future.