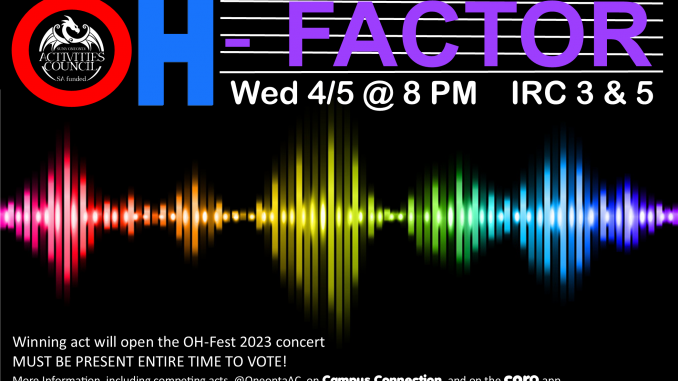 Christopher Milazzo | Staff Writer
One of the biggest events to take place on the SUNY Oneonta campus every year is the annual OH-FEST concert. Students, alumni, and Oneonta locals gather for a special day that includes amusement park rides, carnival foods, and a concert to end the night. One of the most exciting parts of OH-FEST is actually off campus, where the entire Main Street is closed off and many local businesses and vendors come out to celebrate. There are food trucks and activities also present on Main Street for everyone to partake in.
Having big events take place in Oneonta and on campus brings attention to our great community. Businesses in town are able to gain new customers and get more attention than ever before. On campus during the day, students gather in the quad to have some fun. For O-FEST '22, there were carnival rides like a mechanical bull, ziplining, and axe throwing. There was also a photo booth, a butterfly sanctuary, and even food trucks serving things like funnel cakes and popcorn.
One of the more exciting events at last year's O-FEST was the concert that took place during the day. Organized by the Concert Producing course on campus, students helped set up a daytime concert to take place that featured all student acts. Students organized the whole concert production, giving them skills in event planning and oversight.
Headlining OH-FEST '23 is T-Pain, singer of the hits "Buy U a Drank" and "Bartender". Last year's headliner of O-FEST was Flo-Rida, who performed his biggest hits "Whistle" and "Wild Ones". Another fun note about OH-FEST is that before the main performer comes on stage, one student act is chosen to be the opener. Last year's student opener was the band, Rib and the Bones, which was voted by students at the annual OH-Factor competition. Every year, the school hosts a competition for students to get the chance to perform and open for the main act at OH-FEST. Last year's competition was exciting for students, as they were able to try out for the opening spot.
The OH-FEST and OH-Factor events are almost always run by students, giving them career and professional experience. This year's OH-Factor will be taking place on April 5th, in the IRC lecture halls 3 and 5. Student musicians are welcome to sign up and audition for OH-Factor through Campus Connection before March 31st. And to follow, the annual OH-FEST will take place on April 29, on the SUNY Oneonta campus. All SUNY Oneonta and Hartwick College students, faculty, and alumni are encouraged to join this special event. Tickets for OH-FEST '23 concert featuring T-Pain are for sale now online, or you can purchase tickets through Hunt Union's front desk.