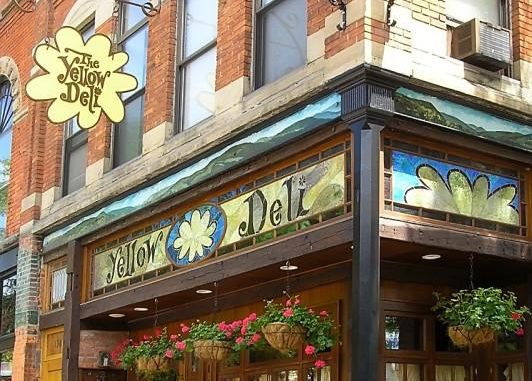 Brandon So, Staff Writer |
ONEONTA, N.Y. — The Yellow Deli opened on Feb. 14, 2010, and is located at 134 Main St. in Oneonta, NY. The Yellow Deli is one of Oneonta's most popular restaurants. The restaurant serves a wide variety of soups, sandwiches, beverages, and many other items. The Yellow Deli makes all of its soups and chili using only simple ingredients. I am a huge soup fan and always like trying new things. They offer 9 rotating soups of the day and chili as an everyday option.
The soups that the Yellow Deli offers come in two sizes: a cup and a bowl, each served with either sourdough or artisan bread.
Here's how the soups ranked from worst to best:
#10 Beefy Lentil
Beef and Lentils are not a winning combo, I don't recommend this soup unless you have a niche for lentils.
#9 Broccoli Cheddar
Unfortunately, this classic soup ranks low on the list. Broccoli Cheddar soup is usually good but there's more broccoli than soup in the Yellow Deli's version. If the Yellow Deli were to include less broccoli and more soup, then it would certainly move up the list. But for now, it remains at number nine.
#8 Garden Vegetable
Good for a cold day, this simple soup is made up of nature's purest ingredients.
#7 Beef Barley
Like the Garden Vegetable soup but this one contains beef, a nostalgic soup for the older crowd.
#6 Salmon Chowder
The only soup that contains fish, made into a chowder, which proves to be delicious.
#5 Chili
The Yellow Deli staple. Fresh homemade chili topped with a shredder cheddar mix, you can't go wrong. For this reason, The Chili is a daily menu item.
#4 Creamy Cauliflower
A hidden gem. This is made with cauliflower, vegetables, and various kinds of cheese. The Yellow Deli has nearly perfected its take on Creamy Cauliflower. If you have not tried this soup, I highly recommend it.
#3 Creamy Butternut Squash
Creamy, rich, and soothing, this buttery goodness will fill you up any time of day. (Optional: served with nuts).
#2 Cheesy Potato
Full of cheese and potatoes, nature's best ingredients. The Yellow Deli's take on this soup delights all. If you opt to try this hearty soup, make sure to order extra cheese!
#1 Creamy Tomato Basil
The fan favorite, this classic tomato soup takes home the prize. The Yellow Deli's version of tomato soup is usually served only on Sundays. Customers must dream of this soup all week long.
Overall, Yellow Deli's soups are excellent, and I highly recommend trying some of their less popular soups as you might get addicted to them. Don't forget to head on down to Main St. so the good folks at The Yellow Deli can take care of you. The Yellow Deli is open from open 24-hours a day, 5 days a week, from Sunday at 12 p.m. to Friday at 3 p.m.