Andrew Dawson, Editor-in-Chief |
Ashok Malhotra, a retired professor who taught at SUNY Oneonta for 49 years created a charitable organization called the Ninash Foundation, responsible for building four schools for socially and economically disadvantaged children in India. With help from his wife Linda Drake, Malhotra through the Ninash Foundation created a cultural shift within social classes in India by promoting literacy for villages which were without schools for the disadvantaged children.
The Ninash Foundation's goal is to promote literacy and teach underprivileged children the importance of education. Their foundation also centered all their schools around female and male students that suffer from poverty, commonly referred to as "untouchables" in India. "Untouchables" is the name of the lowest caste in India's caste system where people are suffering socially and economically in India's developing economy. In India's society, higher caste members have segregated themselves from "untouchables" and refuse to be in the same room as them or even communicate with them. However, through the work of Dr. Malhotra and Mrs. Drake, the Ninash Foundation has started to break this cultural stigma. Ninash's schools have taught thousands of "untouchables" the importance of literacy and because of it they are now living very successful lives.
In 1996, the Ninash Foundation created its first school in Dundlod, Rajasthan. Dr. Malhotra, who had visited the above village while directing the SUNY Oneonta's "Learn and Serve in India program," was moved by the children and their inability to receive an education. The Ninash Foundation raised money to build this school.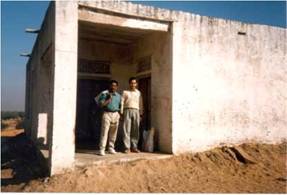 The school first started in a donated one-room and taught 50 underprivileged children. In 2000, the Ninash Foundation started the new millennium by constructing the first phase of a new school building in a land provided by the community of Dundlod. In 2006, Ninash raised money through generous supporters from Oneonta to construct a high school wing in the existing school. Now this school in Dundlod has grown to 20 rooms and teaches 680 students from nursery to the 12th grade.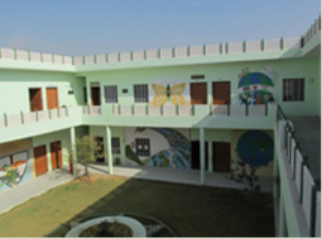 The Ninash Foundation raised money that helped create a computer room for the students, supply a water well and a lunch program called Project Hunger which helps feed all the students. Dr. Malhotra and Mrs. Drake made this lunch program as one of their top priorities because many children only receive one meal a day and often go to bed hungry which effects both their health and education.
In 2001, the Ninash Foundation built their second school in Kuran, Gujarat after a devasting earthquake wiped out the village, leaving 200 destroyed homes in its wake. When Dr. Malhotra and Mrs. Drake heard the news, they traveled to Kuran to help aid and rebuild the village. When they first arrived in Kuran, they talked to the local's and assessed the situation. All their houses were destroyed and only temples in their village survived the earthquake. The villagers thought it was a gift from God that their temples survived the earthquake. However, it was because of the way in which they were built. It was called Bunga style which resembled a round structure and have a roof like a teepee. After learning this, the Ninash Foundation provided money to build ten houses and a new school to promote literacy. These houses and the school buildings were created in the Bunga style to withstand any future earthquake.
The Ninash Foundation built a ten-room school complex for 417 impoverished children in Kuran, Gujarat. The village had never had a school before. With the help of several other charitable organizations, they were able to rebuild 200 homes and their school in just three months. They also teamed up with other charitable organizations to help build a memorial library with thousands of books, a computer room, a water filtration plant, food programs for school lunches, and a children center which offers the students after school activities.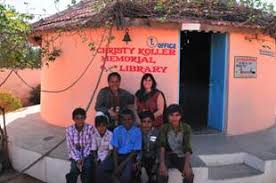 Both schools follow the Ninash Foundation's truly inspirational slogan, "Each one, Teach one." The "Each one Teach one" slogan means, we teach the students how to read and write, and they go back home and teach the rest of their family what they learned in school. While the people in these areas might have disagreed with building the schools at first, everyone in both villages is doing their part in promoting literacy. Most people in these villages were illiterate prior to the schools but now both villages are almost 65 percent literate because of the work of the Ninash Foundation and of course, the help provided by our SUNY Oneonta students.
For example, the village of Kuran was mostly illiterate in 2001. However, now, 22 years later, it has 65 percent literacy rate among all females and 85 percent among all males. It is all due to the work of the Ninash Foundation with the help of our SUNY Oneonta students.
"A lot of literacy is being spread in these villages and I'm glad our SUNY Oneonta students left a legacy behind," said Dr. Ashok Malhotra. Because of Ninash Foundation's schools, hundreds of these students living in remote villages have graduated and are going to colleges of their choice. There are many success stories. To name a few, one female is becoming a medical doctor, another is a television anchorwoman for a major television network, while others have become chartered accountants, and some have opened their own businesses.
Currently, the Ninash Foundation is not building new schools but is maintaining these existing four which are providing a high standard education.
The Ninash Foundation is a 501©3 organization which is still raising money to help these impoverished children in India to receive the best education possible. If you would like to donate to the Ninash Foundation, please visit their website ninash.org.