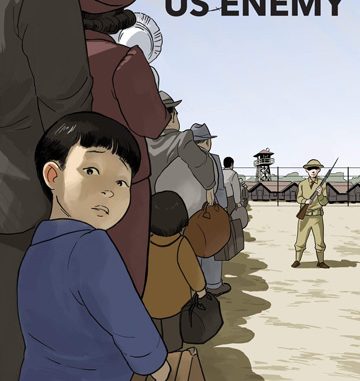 Lara Murray-Sterzel, Staff Writer |
Books bring the most fascinating stories to life. Some call books doorways to another world or time where we can experience the power of the story. It is exciting to be able to share your thoughts about a current read, which is why people come together for book clubs or book talks. At Oneonta, the members from its staff formed a Common Read Committee to create unlimited opportunities for book conventions, readings, or meetings. This time they had a small Common Read Book Discussion meeting where they discussed the inspirational graphic novel "They Called Us Enemy".
On Thursday, October 27, the meeting was held in the Alden Room in Milne Library. "They Called Us Enemy" is a graphic novel written by George Takei which surrounds his five-year-old self and his parents experiences while living in the Japanese internment camps during WWII. The Common Read Book Discussion was hosted by Professor Bagby, who was joined by one of the Common Read Committee members. "It looks at all the things they dealt with, struggled with, and the feelings of embarrassment and humiliation. And the idea that everything, literally everything, was taken from them. Essentially at gunpoint without any kind of discourse or any kind of charges filed," Professor Bagby told the students.
To start the discussion, Professor Bagby asked students what they felt after reading George Takei story. However, the students who came didn't read the book, but they felt the book goes into more depth about how it affects each individual person. Professor Bagby told students the novel is really Takei's memoir and spoke passionately about his admiration of George Takei. One aspect of the book that struck him was Takei's conflict with his father's undying allegiance to being an American and forgiving what America was doing to their family.
His father knew that everything that was happening to them was based upon America's fear after Pearl Harbor, something Professor Bagby said Takei didn't understand until later in life. "It was really a sense of chaos and fear that drove the American people to feel this way, and another point that really struck home with me was when they were released from incarnation. They were in just as much trouble as they were before because the barware that they had inside protected them from all the hate outside. But once that door opened, they had no protection from that hate anymore," said Professor Bagby. He also brought up how this fear we had then has been repeated many times in American history. Especially when people thought they were doing the right thing.
When the meeting concluded, Professor Bagby told students if they were interested in "They Called Us Enemy", Milne Library's front desk has information about where you can find free copies of the book left. If you're curious about this fascinating graphic novel, I highly recommend reading it.