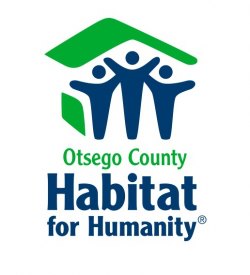 Lara Murray-Sterzel, Staff Writer |
The upstate New York climate during the fall and winter seasons can be difficult to get through. With upstate New York's ever-changing weather, people find it hard to predict what their day is going to be like. Then there are others who may be struggling to get by due to various reasons such as financial issues that prevent them from affording a warm home to live in. How can we change this? Is there a way to help families stuck in this condition? Thankfully, the Habitat for Humanity club is here to help. The Habitat for Humanity club is a nonprofit organization designed to help the Oneonta community in building homes for families and assisting in fundraising to help aid people struggling during a financial crisis.
On Tuesday, October 18, Habitat for Humanity held its first meeting in the Human Ecology building on campus where the club discussed why it's important to help give back to the community. Habitat for Humanity President Abigail Agyeman hosted the meeting while accompanied by other members of the club like their Communication Chair Lena Schorr-Roztocki, Volunteer Coordinator Alexis Fuda, and Vice-President Sarah-Malika Jules.
The club talked about its goal of helping build new homes, aiding food centers, and assisting the elderly. They hope their active work in the community can make a happier place for families in Oneonta. Habitat for Humanity also discussed different ideas for fundraisers, including a Krispy Kreme fundraiser. Their president mentioned they're always looking for more ideas and connections to aid those who need it. As of now, Habitat for Humanity is looking for students to fill available positions they have in the club. The positions available are Fundraiser Chair and Public Relations manager. The public relations position is responsible for posting and managing the club's Instagram. They encouraged anyone who has experience with social media or has an interest in this position to contact them. When the meeting concluded, the members of the club ordered pizza which students ate and asked any more questions about the club.
Since Habitat for Humanity gained members last year, they also lost some due to graduation. Having been under the previous members' administration, one couldn't help but wonder, what plans do the new members have that are different from last year? "Our plans for this year are to form a better relationship with the local Habitat for Humanity factor, and that means making sure that we're volunteering for the village and actually helping the community," said club President Abigail Agyeman. "Our second plan is to have fundraisers, so you actually join the challenge in Florida." After Hurricane Ian struck Florida, Oneonta's club wants to help families recover from what they've lost and provide anything they may need.
Are you motivated enough to change the Oneonta community for the better? Would you like to assist in helping Florida recover from Hurricane Ian? Do you see yourself joining the Habitat for Humanity club? Their weekly meetings are posted on the Corq app and if you're interested in any of the available positions, feel free to reach out to them through Campus Connection.