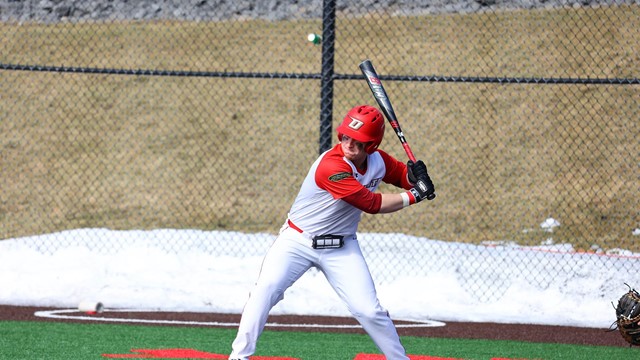 Nicholas Winograd, Contributing Writer |
The SUNY New Paltz Hawks defeated the Oneonta Red Dragons 6-4 on Apr. 22. In a game that featured three home runs, New Paltz jumped out to an early lead in the second inning and never trailed from there.
For the Red Dragons, sophomore Michael Sadowski made the start, going six and two-thirds innings, allowing six runs on eight hits, and striking out three. Sadowski started the game strong, and for a while, it looked like we had a pitcher's duel between him and Hawks starter Billy Moeller. However, a pair of home runs by designated hitter Dean Stalzer put a significant damper on his day. Kyle Rosenberger came in to close the seventh inning and pitch the eighth for Oneonta, striking out three but also walking a trio of New Paltz hitters.
After Stalzer's first home run in the second inning, the bats were quiet on both sides until the top of the sixth. With two outs, the Hawks managed to get runners on second and third. New Paltz coach Thomas Seay was just looking for a two-out single from his DH, but Stalzer homered again, clearing the left-center field fence to make the score 4-0.
However, the Red Dragons came right back with a big inning of their own, starting with an error allowing Liam Kaseta to reach first base. A double by Sean Liquori got Oneonta on the board as Kaseta made his way around to score. A two-run homer by Anthony Foglia cut the Hawk's lead to just one, but it was New Paltz, coming back in the top half of the seventh to rally yet again. With sophomore Leo Alvarez on second base, pinch hitter Tommy Kreider doubled down the right-field line, just past first baseman Liquori, and into the corner. Alvarez scored easily, and the two-base hit ended Sabatine's afternoon. First baseman Joe Patane greeted reliever Rosenberger with a quick single back up the middle, splitting shortstop Nate Guillen and second baseman Andrew Bonilla, as a sixth Hawk run came across to score. Rosenberger did strike out Ryan Mackle though, ending the inning.
After a clean bottom of the seventh and top of the eighth, the Dragons came up still trailing by three in the bottom half of the eighth inning. Sean Liquori tallied a single to start the frame, and he wasn't left standing on first base for very long. Foglia added to his big day, quickly doubling him in, cutting the lead to two. However, Foglia was left on second base and never made it around to score. In the bottom of the ninth, with sophomore James McGovern pitching for New Paltz, neither Justin Maler, Jake Barrett, or Michael Sabatine were able to get anything going. McGovern set them down in order, winning the game for the Hawks 6-4.