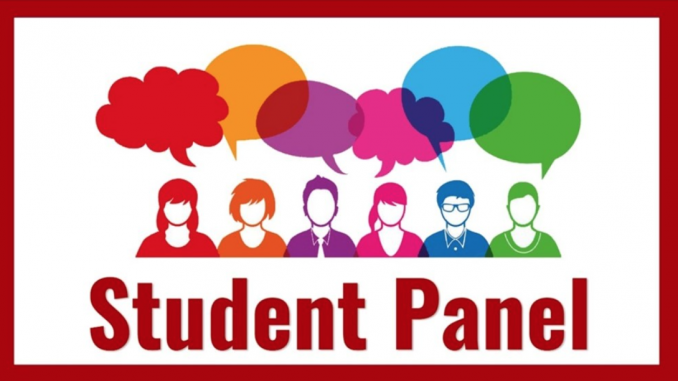 Laura Murray, Contributing Writer |
Have you ever wanted to be a part of an organization that helps build our campus? If so, you've come to the right place. Every student wants to be successful. Whether it's in their academics, extracurriculars, or sports, we want to reflect on our day and say we did something great. The Student Association (SA) is a student-operated organization that plays a part in campus life and helps students develop professional skills. On Mar. 23, SA had a panel to talk about their experiences and why SA is something you should join.  
The Executive Vice President of SA, Lena Schorr, opened the panel and introduced its seven members who went on to tell their life-changing journey through SA. "It was really hard for me to put myself out there. I was never a shy person, but after COVID it was a little hard. But joining SA really helped me because it made me more comfortable, and I started joining other clubs afterward. I feel very aware of our school and our campus," said SA senator Emily Destefano. Destefano said that when she was in high school, being a leader or having leadership positions wasn't something celebrated. But when she came to Oneonta and joined SA, she became surrounded by people who were proud of their accomplishments, which led her to be proud of herself.
Another SA senator Tanya Reyes went on to encourage people at the panel to take up a leadership position, she said it was important to have the representation the organization and the students deserved. "I also think it's great in making sure you can express your voice and doing it in the proper way. Going to the right people, making sure you can make the changes you want to change in the way it should be done, and that's way more important than anything else. I also think that this kind of environment opens you up to so many opportunities, one of them being just leadership skills and public speaking. You think about the skills you can get from this position. It is a lot of fun and we're really good friends up here," said Reyes. SA members have expressed their shared confidence in themselves and in the organization.
"Being a female student leader has been an interesting thing for me because I come from a very small town where there's a lot of gender discrimination still to this day," said SA Chair of Academic Affairs Maddie Nedell. Nedell is the academic liaison between the administration and students. Growing up in a town where you're belittled can't be easy, but Nedell has proven that anything is possible. She's not afraid to use her power to speak up for people who need to be heard on our campus. "I get to have these conversations with the administration, and they'd make comments to me about being an outspoken female, which I really like, and I am really proud of. I'd like to be able to go to the administration and be able to represent everyone and have their and my voice heard," said Nedell.  
 So, why join SA? To be heard, to build confidence, to do something meaningful, and to be a representative for our campus. The job can be rough in the beginning, but members have said that after the third meeting you get used to the pace of things. The panel said you can learn so much from being in SA. They can teach you to use your power of speech and knowledge to shape our school. The club can also prepare you for the future. It will teach you how to be ambitious and outspoken, and it can go on your professional record as one of your accomplishments.
One of the SA members gives credit to SA for building her confidence when she was interviewing with ABC for a journalist position. She knew how to calm her nerves because of it. "One thing I learned in college, pretty much a bunch of things I learned in college, happened in SA. Especially in terms of how to act like a professional," said Rachel Dobkin, the Chief of Staff in the Student Association. Dobkin joined SA when she was a freshman. Having been in the organization for three and a half years, she strongly encourages students to take a chance and join SA, which meets every Tuesday at 6:30 pm in the Waterfront room of Hunt Union.