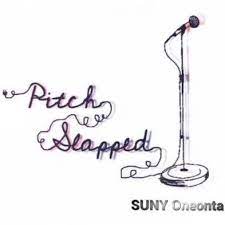 Kyora Wallace, Staff Writer |
This past Thursday, Pitch Slapped held its first show of the semester in the Fine Arts building at 5 p.m. It was a $3 entry fee for students and a $5 entry fee for regular admission for the 1-hour concert. The Singing in the Luck show was St. Patrick's Day themed, adorned with green streamers and clovers.
Pitch Slapped is one of the two acapella groups we have on campus. It's an all-girl group made up of some of the finest vocalists on our campus.
The show started with a group performance of Tell Me you Love Me by Demi Lovato with Vice President, Maralee Bixby on lead vocals. After that, there was a lineup of solo performances with a mix of songs. Some of them were older like Vienna by Billy Joel. And some of them were more current like Jealous by Labrinth which was performed on the piano. All the girls sang beautifully but there were a few standouts solos. First was Your Song by Elton John performed by Amira Haruna. Her voice was a perfect match for the slow ballad. Next, is She Used to Be Mine by Sara Bareilles performed by Samantha Difiore. She sang beautifully and really showcased her vocal range on those high notes. I think it's safe to say she gave everyone goosebumps with her performance.
Performer and Music Director, Amira Haruna had a blast getting ready for the show. She says "It was such a positive learning experience. Rehearsals are filled with a lot of the more technical aspects of learning music such as adjusting rhythm, dramatizing dynamics, and perfecting diction."
Hooked on Tonics, the second acapella group on campus made a guest performance. After the solos were done, Hooked on Tonics performed two group numbers. They sang Trampoline by Shead and Zayn, and Finesse by Bruno Mars and Cardi B. I've seen them perform Finesse before and I must say I never get tired of seeing them do it.
After Hooked on Tonics, Pitch Slapped began their group performances. They started with a medley of Destiny's Child songs including Survivor, Jumpin'Jumpin' and others. My favorite number had to be When the Party's Over by Billie Eilish. All the girl's voices worked well together, making the harmonies sound beautiful. Another stand-out performance was Déjà vu by Olivia Rodrigo. I will admit that after hearing this song everywhere for weeks straight, I saw it on the list and subconsciously rolled my eyes. This song has been overplayed. Then, I saw the performance and fell in love with it all over again. The parts where the girls sang all together sounded great and I remembered why so many people liked it.
You can tell the girls worked hard and have great chemistry. Haruna expressed that "We're all friends in and outside the group, so being able to make art in such a time-honored way with people I have so much love for is really special." She goes on to say, "We speak our mind through our music, and there is no greater honor."
If you haven't seen Pitch Slapped perform yet, what are you waiting for? Keep an eye out for their next show on Campus Connection, I know I'll be watching. See you there!