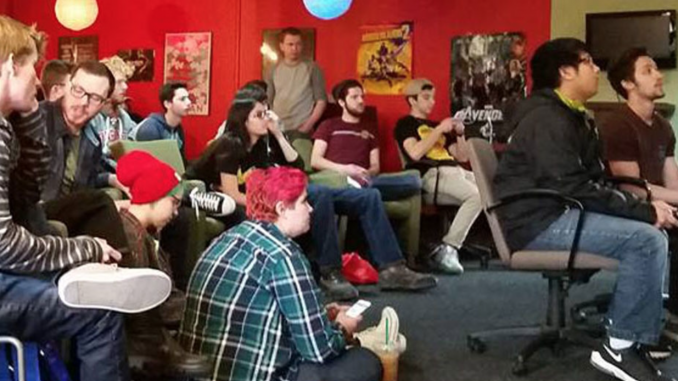 Kyora Wallace, Staff Writer |
SUNY Oneonta gamers unite! If you are interested in playing video games, watching other people play or need a quiet place to finish your Starbucks, the Red Dragon Lounge is for you! 
The Dragon's Lair was created back in 2006. A group of students known as "The Vanguard" founded the space to build connections through gaming. With all the collaborative events and tournaments that go on during the school year, they are definitely staying true to their mission.  
Located on the first floor of Hunt Union, the lounge has gaming systems old and new, ranging from the GameCube to PS5. Along with the systems, there's an even bigger variety of games for each console they offer. If they don't have a game you want, they can order it. You can also bring your own games and systems with you. There's a bunch of outlets, TVs, and comfy seating options for everyone.  
Lounge Manager, Cooper Levine started working in the Dragon's Lair as an event coordinator during the COVID-19, but that didn't stop him from trying to keep the club alive. He recounts his experience saying, "I helped run the SUNY Chancellor E-Sports tournament. I helped run try-outs to get certain teams on board and cheered them on as they tried their best to play online."  He's worked there for a little over two years now, and I don't think anyone loves that place more than he does. 
You might have seen flyers for all the Mario Kart and Super Smash Brothers tournaments the Dragon's Lair hosts, but that's only part of what they do. Levine says, "we have other clubs come in and ask to borrow the space. They use this space to have people feel comfortable and connect with each other people." Since most of the clubs on campus use classrooms for their meetings, the Dragon's Lair allows clubs to come in and hang out in a non-academic setting. Levine goes on to say, "we have this special opportunity to have this space to allow for people to come and feel comfortable."
Speaking of flyers, Levine gave me some insight into their next big event. In collaboration with the Gender and Sexuality Resource Center, the Dragon's Lair will be holding a Gayme Night! This will be their second time doing this event, and it sounds like a blast. The event will showcase games that have either Queer creators or Queer characters. Levine said, "we want to showcase that just because someone is not male, doesn't mean that they don't have a place in the video game community." 
The Dragon's Lair is open Monday through Saturday, from 5-11 p.m. (they close at midnight on Fridays). Keep an eye on Campus Connection for updates on Gayme Night. See you there!