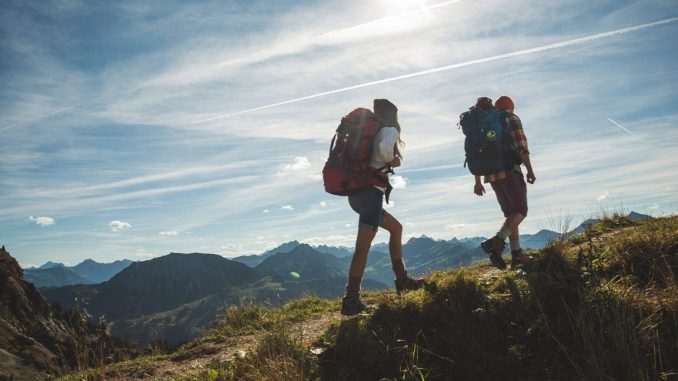 Kyora Wallace, Staff Writer |
Although our campus looks more like a winter wonderland every day, that's not stopping students from going outside. The members of the Outdoor Adventure Club don't let the weather get in the way of a good time.
The Outdoor Adventure Club is one of many ways to get involved in Campus activities. With over one hundred active members, this club is sure to spark your love for nature and all you need to get involved is a positive attitude. I spoke with the President of the club, Caroline Shaver, to gain more insight into the group.
Shaver said, "The goal of the Outdoor Adventure Club is to promote friendship and proficiency in outdoor living, an appreciation of the outdoors, and the growth of this feeling in other students." Personally, I know that as a busy college student I don't get to go outside and explore as much as I would like to. Usually, I don't go out unless I absolutely need to and even then, I try to get back in as soon as possible. This club would be a great place to start since one of their missions is to appreciate the outdoors.
When asked what the club brings to campus, Caroline replied, "Our club creates a strong community of students who share an interest in the exploration of nature and various outdoor activities through the opportunities we provide. We can offer events for people of every background regardless of previous experience and athletic ability and facilitate a safe group to find like-minded people."
It might be a bit nerve-racking to join a club full of thrill seekers if you are not one yourself, but the Outdoor Adventure Club is a pressure-free environment. She went on to say that "Nature is a space for all to enjoy whether it's your first time doing an activity or your hundredth, and we will help all members have fun and find a passion for the outdoors!"
Hiking, snowtubing, and whale watching are just some of the great things the club offers. They also teach you the skills needed for outdoor activities using tutorials, guest speakers and other fun methods. "Each meeting is different, but they always offer an opportunity to learn about the outdoors through different sources and are very interactive. We encourage everyone to participate and ask questions if they'd like to," said Caroline.
Along with an upcoming ice-skating event, the club has so much planned for this semester. According to Caroline, "Signups have already begun for our ice-skating event in Cooperstown on Feb. 20 and be on the lookout for snow tubing, a fire tower hike, biking in Cooperstown, and a bonfire at College Camp!" While it may be cold outside, don't let that get in the way! Oneonta is a beautiful town with so much to offer, so make sure you take advantage of it. The club does so much which means there's something for everybody.
The club meets bi-weekly in the Union Square Room located in Hunt Union, so keep an eye out for them on Campus Connection!