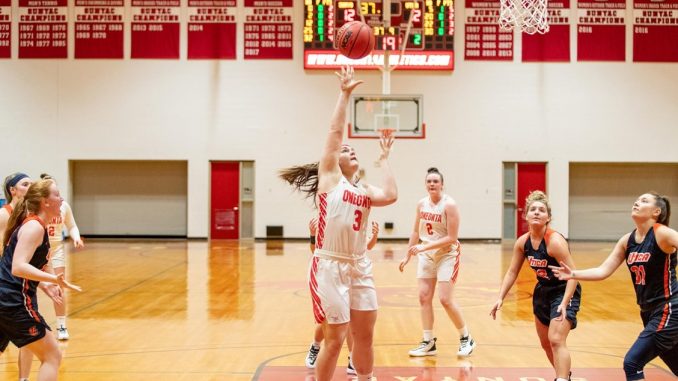 Chelsea Sookra, Staff Writer |
SUNY Oneonta women's basketball team had an unfortunate loss on Friday, Nov. 5. The Red Dragons put up a good fight, but Skidmore was able to win the opening game.
The SUNY Oneonta women's basketball team returned to action against the Skidmore Thoroughbreds after an almost 18-month layoff. The host Red Dragons were defeated by a score of 56-38.
The first quarter of play was difficult for both teams. Neither side shot very well, but Oneonta went into the second quarter with a 9-4 lead. With four points in the first quarter, junior Olivia Dobrovosky (Skaneateles/Skaneateles) led the Red Dragons.
Skidmore found its stride in the second quarter, shooting 46% from the field to take a 22-18 lead into halftime. With Skidmore trailing 11-10, freshman Amelia Medolla hit a three-pointer to ignite a 12-3 run that gave them the lead for good. Medolla led all scorers with 14 points, including 4-of-6 shooting from beyond the arc.
The visitors extended their lead to ten points heading into the fourth quarter, outscoring the hosts 14-8. After a layup by Medolla at the 3:49 mark, Skidmore led by as many as 20 points in the final period.
Megan Palmatier (Bainbridge/Bainbridge-Guilford) led Oneonta with 13 points in 27 minutes of play, a collegiate career high. She also grabbed six rebounds and a pair of steals.
The Red Dragons shot 20% from the field, while Skidmore shot just under 38%. Skidmore was able to shoot more threes than Oneonta which played as a big part in their victory. Skidmore made seven three-point shots and Oneonta made just one. Skidmore was outrebounded 47-41 by Oneonta, who also had nine steals.
The Red Dragons dropped their second game of the season as well, losing to rival Hartwick 52-41. Oneonta's next game is at Hamilton college today. Hopefully, our Red Dragons can turn their season around and get a win against Hamilton.