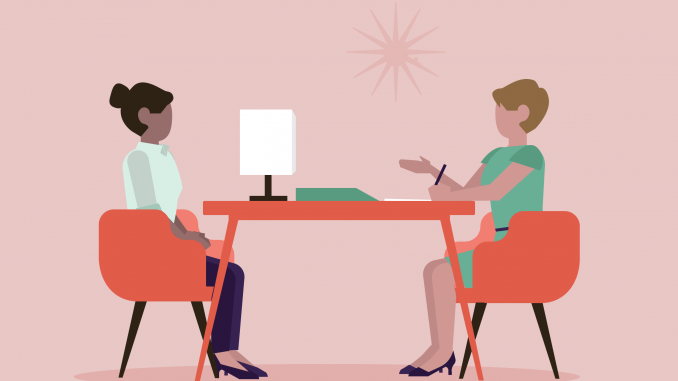 Alexa Di Palermo, Staff Writer |
As college students, we plan daily for our futures and prepare ourselves for adulthood. We are learning what we need to graduate and get our degrees, but what about preparing for obtaining a career, like learning interview skills and résumé building tactics? What about developing our careers? Luckily, with help from Matt Munson from the Career Development Center, I have many of these questions answered for our students who need help!
To start, we went in-depth on the most important part of obtaining a job – the interview. Going to a job interview is nerve-wracking in itself, and what goes into preparing for one can be a lot to process at one time. To start, it's important to practice answering questions and prepare your look for the day of the interview.
A resource we have been provided with as SUNY Oneonta students is Big Interview. Big Interview asks you for information such as what kind of job you are applying for and will generate possible interview questions. This database will let you record yourself answering questions and help you with answers. This also will let you hear yourself and evaluate what you should change in your response!
Make sure to do research on the organization you are interviewing for. It is important to know what you are talking about if you truly want to be employed by said organization. The most common interview questions quiz your knowledge on the organization, and the specific job itself. If you do not know what you are interviewing for, the employer probably will not want to hire you.
Before the interview, it is also important to have a good outfit picked out. When looking for your career, it is important to have a few professional outfits on hand. For interviews, it is a good idea to wear black or blue. Some sort of suit would be best. Dress to impress!
It is important to know where you are going on the day of the interview to avoid any inconveniences. In advance, make sure your outfit is put together. Practice your answers to common questions, drive to the location or prepare yourself to be there fifteen minutes early on the day of the interview! There are a variety of different kinds of interviews, and it is important to prepare yourself for all of them!
On the night before, make sure you prepare, and then give yourself rest. It is important to present your true, best, and brightest self to the interviewers! After all the preparations you have done, it's important to rest. Be confident, you've got this!
On the day of the interview remember to be present fifteen minutes early. It is important to show the employers you are prepared and care about the interview. If you care about the interview, you care about the job! Avoid going on your cell phone in any type of waiting room situation, and master small talk with anyone who comes your way. You will not always be talking to the boss, so it is important to treat everybody you meet with equal respect.
From then on, congratulations, you have completed your interview!
If you were to need any help with other topics like internships, résumés, and cover letters, be sure to visit the Career Development Center's webpage and book an appointment! The Career Development Center is here for you!