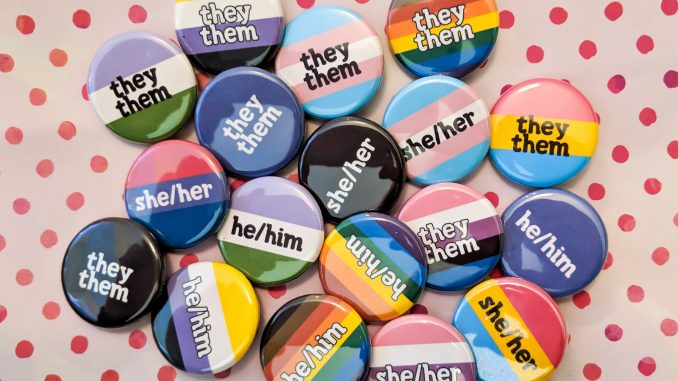 Chelsea Sookra, Staff Writer |
This week's Sex and Pizza: What's on TOPic discussion centered around LGBT history. In case you were unsure about what Sex and Pizza: What's on TOPic is, Rebecca Harrington and Emily Phelps host a biweekly informal discussion about the topics that fall under the broader category of sexuality. Harrington and Phelps host these discussions in an informal manner because sexuality belongs to us all and doesn't always have to be steeped in academia. Questions with polls are given centering around the conversation to get student feedback about what they know about the topic.
A guest was present this week as well. Kasia Swift works for Family Planning of Central New York and told the audience about what Family Planning of Central New York does and its resources such as offering Plan B. Swift is non-binary as well and discussed what their experience is like with the education system.
Swift and their partner are both non-binary and their child is encouraged to use whatever pronouns they choose. Their teachers are very understanding and accepting which was nice for Swift to hear because that's not the norm. Some teachers are really for this new change and understanding of the LGBTQ+ community while the education system isn't ready for it yet.
The education system is built around the common core system where only a handful of people dictate education. IQ tests for children are very gender-based (what is her toy? A doll or a train?) Either of those toys could be for a girl but common core doesn't see it like that.
The Closet in the Quad event happened today where people could write affirming messages and take photos walking in and out of the closet in honor of National Coming Out Day. Phelps stated that she likes to tell people "instead of coming out, let people in." Coming out can be uncomfortable for many people and some people may not want to be so extravagant about coming out. Letting people in means less about making others comfortable and more about allowing people to know the real you. You don't owe anyone a coming-out talk. You deserve to let in whoever you feel like. Red the dragon identifies as nonbinary now and wore a they/them pin on National Coming Out Day. They didn't physically come out of the closet to show that not coming out is what you want it to be, not what others think it should be.
Phelps discussed how people question her sexuality because she doesn't present how she identifies. She identifies as a bisexual woman but has been married to a man for over ten years. Many people no longer see her as bisexual because her primary interest is towards a man but she still identifies as bisexual despite being in love with a man. Phelps doesn't think it's okay to question anyone's sexuality even if they don't fit the stereotype of what that sexuality looks like.