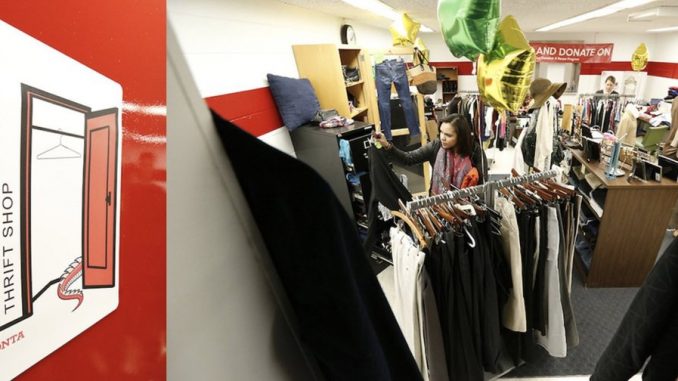 Ashley Hopkins, Staff Writer |
The students of SUNY Oneonta realized a demand for sustainable shopping and made it easy for them to do so. Red Closet Thrift is a student-run thrift store right here on campus, with the motto, "If it has a use…there's no excuse!"
Thrifting has been gaining more and more of a following over the past few years, and it's understandable why people love it. You can find great items at a fraction of the price and have a clear conscience that you're not contributing to pollution, textile waste, and unfair labor practices.
Most of the shop's volunteers are from the Revival of Apparel Club and students from the Fashion and Environmental Science departments. They have finally reopened this year after being closed due to COVID-19. Located in the basement of Netzer, the shop is home to a variety of clothing items that you can sift through and find something you love. They have a collection of shirts, jeans, dresses, skirts, shoes, handbags, and more. One of the great things about thrifting is the unique items that you can't find in popular retail stores.
The shop also has an Instagram (@shopredcloset) where they give sneak peeks of clothing that will be put out soon. They also have a lot of posts with information about shopping sustainably, people in the thrifting community, contests where people can win prizes, and events. The most fun posts are the ones that show how people wear the new thrifted pieces that they score. Some choose to leave the items as they found them, while others choose to DIY the pieces and make them their own. There are tons of inspiration out there for DIY clothing projects. Look on Pinterest, TikTok, and Instagram!
By shopping at the thrift shop, you are also supporting your fellow students. Via the thrift shop's website, "All proceeds from sales fund a scholarship established for SUNY Oneonta students who demonstrate leadership and a dedication to sustainability initiatives!"
The shop is always looking for volunteers, donations, and shoppers. If you have items that you don't wear anymore, there is someone out there who would love to have them! However, the shop stresses that they are "not a dumpster or consignment shop," and space is limited, so they can't accept large items, and have to be a little picky. They said they are "looking for quality, clean items with re-use potential. Please be mindful of this when bringing in donations." If you really do need to get rid of items that the shop won't take, they have a bunch of services listed on their website for more information.
Stop by from 12 p.m. to 4 p.m. Wednesday to Friday! The shop is near the loading dock in the basement of Netzer with a red door, and it is cash only. If you would like to volunteer, contact the Revival of Apparel Club E-board at [email protected].