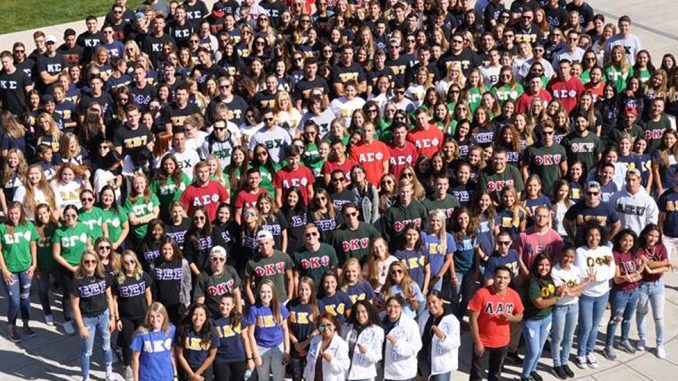 Chelsea Sookra, Staff Writer |
COVID has taken a toll on the Greek Life experience. From the start of the pandemic where recruitment had to be through Zoom meetings and members couldn't meet in person and engage in events together to today where things are seemingly normal, yet masks are required and events are being pushed back,
I spoke with Gabby Cecere, Student Association President and Phi Delta Chi member about her experience with Greek life during Covid. I asked Cecere a series of questions about her experience in Greek life during the pandemic.
I asked her what her experience has been with Greek life during COVID. "My experience in Greek Life with COVID going on has certainly been different. As a sister since my sophomore year (I am a senior now), I got a good taste of both in-person, and online sorority. Meetings have become different in the sense that community service, IGC events, and sister bonding is all virtual. In a way, this does make scheduling things a bit easier, but I miss seeing my sisters in person and giving back to the community in tangible ways," Cecere replied.
"COVID has taken a lot of the "fun" side out of being in a sorority. We meet weekly to catch up on business and discuss things some of us may have missed, but I miss the small interactions outside of the meetings, where jokes are appropriately timed, like getting coffee with my sisters and meeting up at Hunt," Cecere replied when I asked about what COVID had taken from Greek life. I remember hearing that things had to be pushed back this semester, so I asked Cecere for her thoughts on this. "I don't know what this question is in reference to… recruitment? It was fine, just later, it gave us more time to prepare and reach out to more girls who were interested," Cecere replied.
Cecere said that COVID has definitely taken a toll on her organization. "Our membership has significantly decreased, mainly because the New Member Education process is very annoying online, whereas in person, it is a fun, bonding experience," Cecere said.
When asked if other organizations have been affected, Cecere replied, "I'm sure they have, it is very weird coming back and meeting new members in person for the first time ever, but you've actually been talking to them every day for the past year. People could be different in person than they are online, and sometimes that could throw a loop into plans for the future of the org."
Cecere said that she hopes that they can begin more in-person events and sister-to-sister bonding as COVID restrictions lighten up.