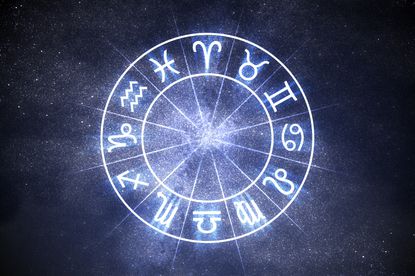 Ashley Hopkins, Staff Writer |
Aries (Mar. 21-Apr. 19): Hard work pays off! You're on the right track. While there may be some obstacles thrown your way, keep your head up and remember your end goal. You will receive good news regarding money, or maybe a new career opportunity on the 22nd.
Taurus (Apr. 20-May 20): Friends can be tricky, as you know. Feeling a little disconnected from your bestie? Keep conversations light and airy. Try not to look so deep into things– usually, it's not that deep! Take time to rebuild that connection by doing something fun this weekend!
Gemini (May 21-Jun. 20): Take a deep breath. Life recently has been a rollercoaster for you– but that doesn't mean you can't handle it. Take a step back and prioritize what's important to you. Once you get that organized, you'll start to feel a little better. The beginning of this month will be hard for you, but by the end of it, you'll be in a routine and everything will be a breeze! The 17th is looking like a good day to make some new friendships. Most importantly, don't forget to take some time to take care of yourself!
Cancer (Jun. 21-Jul. 22): Hit the books, Cancer! You've been going wild this month and it's time to slow down. Get to work on those assignments you've been putting off. You've been having relationship troubles with someone in your life, and maybe it's time to take a step back and re-evaluate. This month is going to be difficult, so buckle in.
Leo (Jul. 23-Aug. 22): Appreciate the little things in life. You've been so focused on the endgame that you're missing out on things happening all around you! Take some time to stop and smell the roses– literally. Take some time to get outdoors, whether it be alone or with friends. Love is in the air until the end of the month, and you'll realize that maybe that special someone was under your nose all along!
Virgo (Aug. 23-Sept. 22): This is a big month for you! You've been waiting to meet someone who feels like a perfect fit– whether they be a friend or a partner– and it's looking like they're coming around this month! Keep your heart and your mind open but don't overthink it. Just go with the flow and that special someone will sneak up on you!
Libra (Sept. 23-Oct. 22): You've been feeling a little down in the dumps, but that's about to change! This month is going to be full of success for you– academically and socially. Make sure to keep an eye on your spending habits this month, as you'll be tempted to splurge.
Scorpio (Oct. 23-Nov. 21): Getting cabin fever already? Get out of the house this weekend and go on an adventure with some friends! The fresh air will help with that "antsy" feeling, so you'll be able to focus.
Sagittarius (Nov. 22-Dec. 21): You're used to being the center of attention, but maybe you need some time away from the spotlight. Take some time for self-care throughout this month, or you're going to feel burnt out. Talk to your friends, family, and do things that bring you joy.
Capricorn (Dec. 22-Jan. 19): You've been feeling like you're on a loop. You need something to spice up your routine. Try picking up a new hobby that you've been putting off. This month is going to be a little bit hard for you, but as long as you keep your mind occupied, you'll make it through just fine.
Aquarius (Jan. 20-Feb. 18): Get out and have some fun! This doesn't have to mean a big party either. You'll have a blast at small get-togethers with your closest friends and make some stronger bonds in the process. By the end of the month, it's also looking like you may have a new boo!
Pisces (Feb.19-Mar. 20): Enjoy the ride! This is your month to shine. You've been having a good few weeks so far, but don't let it get to your head. By the end of the month, reality is going to set in, and you'll realize you'll have to buckle down. Your health– mental and physical– is looking good this month. On the 19th, a special someone is going to walk into your life!