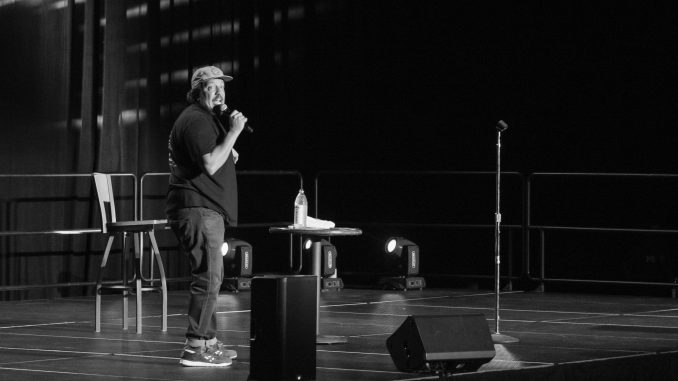 Andrew Dawson, Sports Editor|
On Sep. 4, Sal Vulcano from truTV's number one show, "Impractical Jokers", visited SUNY Oneonta to perform a standup comedy show. Prior to Vulcano's performance, I interviewed him backstage to discuss why he decided to come to Oneonta.
"I like performing at the colleges because a lot of times the comedy clubs are older age groups. College students age from 17 to 21, so it's good to do your material for all different ages because it makes you a better-rounded comedian." Vulcano went on to say, "I like performing for students because it keeps me in touch with new trends from younger generations."
Vulcano gave this advice to SUNY Oneonta students as they start their college careers: "Choose something that you are really passionate about. It's a hard thing to do for 20-year-olds but if you can figure it out than you will have a very pleasant experience."
The comedy show began with Mike Finoia, a producer for "Impractical Jokers". Finoia is an up-and-coming comedian with the ability to spark a crowd. Finoia's material ranged from his impressions of upstate New York to his experience with quarantine. Though, his most inspiring moment was when he discussed the importance of mothers. Finoia believes we don't give mothers enough credit because they sacrifice their lives to give their children a better future. It was a very heartfelt message that resonated with the audience.
When Vulcano walked onto the stage, the audience roared with excitement. Vulcano begun his performance by introducing himself and talking about upstate New York. He found Oneonta to be a nice change of pace from the city life that he is so accustomed to. He was also impressed with the number of students that go to SUNY Oneonta.
Vulcano then discussed his experience with quarantine and how he passed the time by binge-watching his new favorite show, "Master Chef Junior"; a cooking show hosted by Gordon Ramsey which consists of children competing for a one hundred-thousand-dollar cash prize. Vulcano said the show is too intense for children and people take it too seriously. A prime example is when an eight-year-old girl received her grandmother's family recipe while she was in hospice care. Vulcano said, "Is this really the conversation you had with your grandmother on her death bed? Like she didn't have anything better to tell you besides her cooking recipe?"
One of Vulcano's best jokes is when he talked about his early childhood fears that were fueled by his mother. Vulcano said he was afraid of thunder as a child, but his mother eased his nerves by saying thunder is just God bowling. Vulcano went to school the following day feeling as if he was a scientist telling his fellow classmates they shouldn't be afraid of thunder because it's just God bowling. His friends, however, didn't share the same beliefs and teased him for believing that.
Another childhood fear of Vulcano's was the rhythm from Gloria Estefan's song, "The Rhythm is Gonna Get You." Vulcano said the rhythm gave him sleepless nights as a child because he never knew when the rhythm was going to strike. He said his sister played the song on the radio one night and when he went to sleep, he thought the rhythm was going to get him. Vulcano said, "I didn't play that song so don't come after me. My sister played the song, and she lives down the hall to the left so go get that bitch, not me."
Vulcano later said one time he was being a troublemaker at home and his mother called someone and handed him the phone. Vulcano asked, "Who is this?" and the voice on the other end of the phone responded by saying, "It's the rhythm." After the phone call, his mother never had to worry about Vulcano acting up again because he knew his mother has connections with the rhythm.
At the end of the event, Vulcano thanked the crowd for being a great audience and for allowing him to perform at SUNY Oneonta. If you would like to see more of Sal Vulcano you can visit his YouTube channel to watch some of his other comedy shows, listen to his podcasts, or you can tune into truTV to watch his hit show "Impractical Jokers".