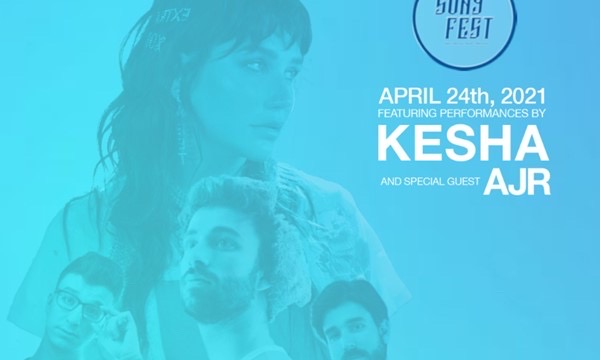 Rachel Dobkin, Staff Writer |
This Saturday Apr. 24 at 5 p.m., SUNY Oneonta will host the first-ever SUNY Fest put on by the Activities Council (A/C). SUNY Fest is a virtual concert festival that will have Ke$ha as the headliner and AJR as the opening act. Prior to the opening act, the concert will feature student acts from over 25 SUNY campuses including an opener from SUNY Oneonta, Luke Mock.
The Head Chair for the Publicity Committee of SUNY Fest, Casey Collette, said that the event "is being run by administrators and student volunteers entirely virtually through a set of committees. Everything from the concert name, artists performing, streaming platform, concert logo, and production were all done with students at the forefront."
This virtual concert will provide a great experience for students across the SUNY system. It "will offer students a chance to continue to practice social distancing while bringing them closer together with their peers from universities and community colleges throughout New York State," said Collette.
A/C will be providing a viewing experience of the concert for those on campus. Collette said, "Many campuses are already planning in-person viewing, following safety measures of course. SUNY Oneonta is even having its own! There will be free food, free shirts, and free entertainment."
Luke Mock was chosen as the student opening act by students who voted on Campus Connection. Mock is a sophomore, music industry major at SUNY Oneonta. He's been playing guitar ever since he was 12 years old. He has performed as an opener for acts such as Ryan Quinn from "The Voice," Neyla Pekarek from The Lumineers, Joe Whiting from Savory Brown, John Gorka from Red Horse and Mark Doyle. He was also the headliner at the Perform 4 Purpose, a not-for-profit organization for young musicians, during the WinterFest of 2019.
Mock said, "I'm super grateful for everyone who voted, all of the contestants are so talented and deserving of being the representative of our school at SUNY Fest. I'm honored that I was chosen to be that representative in the end. It feels so unreal that I'll be opening for Ke$ha and AJR."
Mock went on to say, "I'm most looking forward to experiencing the live music environment with my peers at Oneonta and other SUNY schools. Although this is a virtual event, getting to perform again for such a significant opportunity is something I've missed so much about being on campus." Having student acts at SUNY Fest "allows for other students to feel more connected to the event," said Mock.
Students should come to SUNY Fest "to experience exciting performances from successful artists and students," said Mock. Not only is the concert "free" (already paid for through the student activity fee), but it comes with free perks including a chance to win a meet-and-greet with Ke$ha and AJR!
Click this link to get your free ticket for the concert and continue to check your student email for more updates from Bill Harcleroad, Director of Campus Activities and Leadership. You can also follow the A/C Instagram for updates @oneontaac.