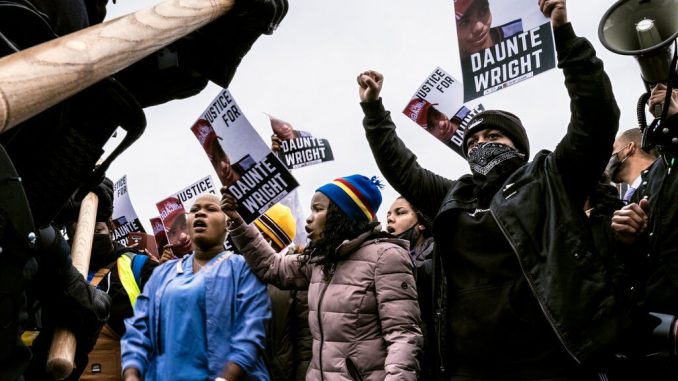 Andrew Dawson, Staff Writer |
On Apr. 11, Daunte Wright, a 20-year-old Black man, was fatally shot by a Minnesota police officer. This incident took place only 10 miles from where former police officer, Derek Chauvin, was standing trial for the murder of George Floyd.
According to Chief Tim Gannon of the Brooklyn Center Police Department, the incident happened Sunday afternoon when the officers pulled Wright over for a traffic violation due to an expired registration. Officers then noticed there was a warrant for Wright's arrest. When the officers tried to detain Wright, he stepped back into his vehicle, prompting a brief struggle. According to one of the officers' body camera footage, an officer pointed a gun at Wright and yelled, "Taser." The officer proceeded to fire a handgun and said, "I just shot him," as Wright drove off. Wright traveled several more blocks before crashing into another vehicle. The first responders pronounced Wright dead at the scene.
Chief Gannon told the press, "It is my belief that the officer had the intention to deploy their taser but instead shot Mr. Wright with a single bullet."
The following day, officials identified the police officer who fatally shot Wright as Kimberly Potter. Potter is 48 years old and a 26-year veteran with the Brooklyn Center Police Department. Potter announced her resignation from the Brooklyn Center Police Department on Tuesday, Apr. 13. Chief Gannon also announced his resignation on Tuesday, Apr. 13. Potter was arrested on Wednesday, Apr. 14 but released hours later after paying the $100,000 bail.
Potter made her first court appearance on Thursday, Apr. 12, and The Washington County Attorney Office charged Potter with second-degree manslaughter. She now faces a maximum sentence of 10 years in prison. Potter announced she will be represented by Earl Gray, a popular Minnesota defense attorney who represented several different police officers. Gray is currently representing Thomas Lane, a former officer who helped detain George Floyd.
The first court appearance was very brief and held on Zoom. The next court appearance is scheduled to take place on May 17. This will be an in-person court appearance and the case has now been assigned to Hennepin County Judge Regina Chu.
Meanwhile, Wright's family and attorney, Benjamin Crump, held a press conference at a church in Minneapolis, demanding consequences for Potter. Crump stated, "They got no due process. They didn't get to have the officers come before the court of law and have the witnesses and evidence presented to a jury to make a determination."
Crump later said, "Daunte Wright did get a charge and an arrest of the officer who shot and killed him. So we are making progress, and I want to encourage those protesting, those young people, those young activists that you are making a difference."
At one point during the press conference, Wright's aunt, Naisha Wright, held up pictures of a handgun and a taser to show the difference between the two. Naisha later said, "Justice? What is justice? Do we get to see Daunte's smile? We don't get to see that. Do we get to hear Daunte joke again? We don't get to hear that. My brother and my sister need this woman to be convicted."
Wright's funeral was held yesterday, Apr. 22, with a eulogy delivered by Reverend Al Sharpton.
"You thought he was just some kid with an air freshener," Rev. Sharpton said. "He was a prince, and all of Minneapolis has stopped today to honor the prince of Brooklyn Center."