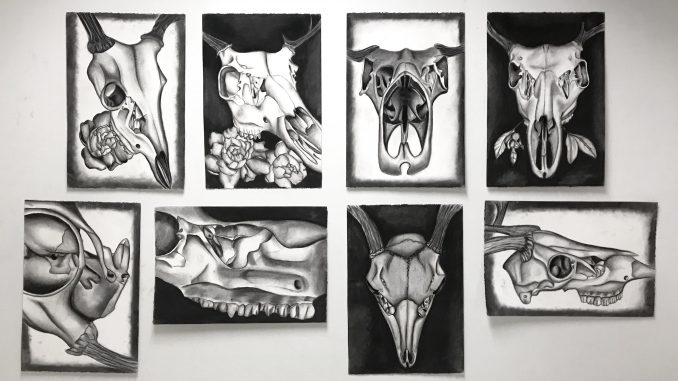 Rachel Dobkin, Staff Writer |
During Women's History Month, it's important to not only celebrate the iconic women of the past but to celebrate the talented women around you. SUNY Oneonta has its own fair share of talented student woman artists, like Rachel Vasti.
Vasti is a junior at SUNY Oneonta with a dual major in Art and Psychology. Vasti recalls her early undergraduate career, "I decided to become an art major because art allows me to express myself and I love the community involved. I have always loved to draw and create anything that comes to my mind. I knew that art would be a great career path for me to strive in and be passionate about."
Vasti's art style has changed while here at SUNY Oneonta. She said, "Throughout my time in college my style has been charcoal. I used to do a lot of my work in pencil, but I have tried all different mediums while in college. I have learned to take more risks with my work which is what I have started to work on."
Using charcoal as her medium, Vasti does a lot of work on the skeletal form and the beauty of life. She elaborates, "I like to show the meaning of life and why it is so important to live your life to its fullest potential."
Vasti was inspired by another woman artist, Georgia O'Keeffe. "She used bones in her artwork because she was intrigued by their symbolism. I like how she made the focal point the skulls she created," said Vasti.  
For the last two years, Vasti's artwork has been featured in the Annual Student Juried Art Exhibition at SUNY Oneonta. Vasti recalls feelings of pride and accomplishment during these shows, "Seeing my work in shows makes me feel proud and recognized for what I do. It makes me feel like my work means something to others who view it. I love seeing my work along with others because it's refreshing to see what other people do with their talents".
Vasti believes art has no gender. "As a woman, I believe art should not be placed in any category. I love the ability art gives me to send any message I want and create anything I want. Anyone can look at a piece of art and it could mean something different to them," said Vasti.
After college, Vasti hopes to become an art therapist. She says, "I believe that art is a good therapeutic outlet for people. I want to show others that you do not always need to verbally express yourself. In society today, times are stressful, and art is something everyone can relate to in some shape or form."
Vasti goes on to say, "I think art is important because it allows people to express themselves. It relieves stress and is a great way to cope with any situation. It is important for younger kids to start expressing themselves through art. It is hard as a child to talk about what bothers you and talk about your feelings. Art is a great way for kids to bring their emotions and thoughts to life."
A special shout out to the art department for fostering the skills of our student artists. "The art department has been so supportive and encouraging throughout my years at SUNY Oneonta. The professors pushed my creative boundaries, and I am thankful for that. I became comfortable with different mediums and learned not to be afraid to mess up my work," said Vasti.