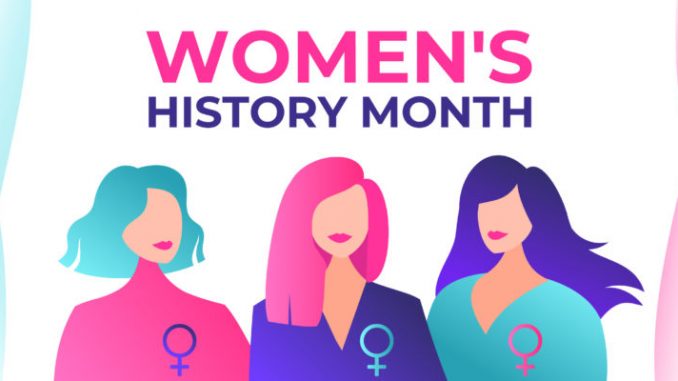 Zarina Sotero, Arts Section Editor |
Every March, we celebrate Women's History Month. This month is used to recognize and celebrate all the contributions women have made to the United States and their achievements in various fields.
Women's History Month is a wonderful celebration, but some feel like this celebration of women is unnecessary, especially for a whole month. I, however, believe this celebration is very important, especially for younger girls. We live in a patriarchal society in which for too long women have been cast off to the side. They have been deemed non-important, only useful for household chores and reproduction. I would like to believe that as a society, we have progressed past that mindset but unfortunately, there are many people out there who still think this way.
Young girls are still being told that they cannot do certain things or pursue certain career fields because they are for men. Women's History Month lets them see that they can do and pursue whatever they want because there are women out there who paved the way for them. It is so important for young girls to have female role models to look up to because it teaches them that if their role models can do it, so can they.
Understanding the historical significance of women can inspire change for the future. Before we can get to a future where women and girls are valued and celebrated, we need to value and celebrate them now. This includes recognizing the importance and significance of the trailblazing women who have led and continue to lead the way for change.
Here are some important women that have paved the way and continue to inspire young girls:
Ethel Payne (1911-1991) – Payne is one of the most famous Black female journalists. She was also an activist and played an important role in chronicling the Civil Rights movements in the 1950s and 1960s. She made history by becoming the first female African American commentator on a national network, CBS.
Alice Allison Dunnigan (1906-1983) – Dunnigan paved the way for other famous Black female journalists and political correspondents. She was the first African American female reporter to receive White House credentials and was also the first female member of the U.S. Senate and House of Representatives press galleries.
Katherine Johnson (1918-2020) – Johnson was one of the first African American women to work as a NASA scientist. She is most known for calculating and analyzing the precise trajectories that would let Apollo 11 land on the moon in 1969 as well as let it return to Earth. She was awarded the Presidential Medal of Freedom in 2015 for a lifetime of work as a pioneering physicist, mathematician and space scientist.
Grace Hopper (1906-1992) – Hopper was an American computer scientist and United States Navy rear admiral. She invented the first programming language to use English words. She is also seen as a key inventor of the language COBOL (Common Business-Oriented Language), a widely-used programming language. Hopper was also one of the first computer programmers to work on the Harvard Mark I computer.
Kamala Harris (1964-Present) – Harris made history by becoming the first female, first Black and first Asian American U.S. Vice President. She was also the first Black woman to be elected district attorney of San Francisco from 2004-2010 and became the first Black and Asian American woman to serve as California's attorney general.
I also want to give a special shout-out to every single woman who has served as an Editor-in-Chief for the State Times. You have all helped keep the State Times running smoothly and make us the best we can be.
These are just a small group of all the important women in our history. I highly encourage you to go online and read about the other women who have made their mark. To learn more about Women's History Month, you can visit womenshistorymonth.gov.