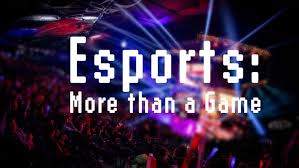 David D'Annibale, Staff Writer |
Esports has been a rapidly growing industry in the past few years and its reach extends to many different audiences. Recently, teams and clubs have begun to pop up around colleges all across the United States. Through the work of a group of passionate students, the Oneonta esports club has been thriving and is looking to invite any gamers to come join the fun. If you are a student attending Oneonta with a passion for playing video games, then you should check out the esports club. The club is opened to all students no matter what your major or your gaming skill level. Like many other clubs and organizations at Oneonta, they have been impacted by COVID-19. However, the students in the club have continued to keep the club going and are actively looking to get students involved with the organization as they elected to hold biweekly events with a theme, promoting games that can be enjoyed online and with the community. .
In an interview with the club's electoral board, the president, Jacob Adler, told the State Times that, "the Oneonta Esports Club was founded on the values of healthy competition in video games, which sets this club apart from other gaming organizations on campus." In recent years, it became more of an esports fan club for people to sit and play games with their friends. However, last year, the club formed teams and decided that to exist as a proper esports club. Adler mentioned in regards to the formation of the competitive teams saying, "we needed to have competitive teams while also maintaining a healthy community around gaming."  Nowadays, they have their teams competing in tournaments and have club members cheering them on via Twitch. He added that while they are looking become competitive, they are not going to shift their focus away from their casual members too. Adler said that the club is looking to combine the competitive and casual scene of esports: "we hold community nights, discuss current issues and news involving esports, and have meshed the best parts of both competitive teams, and more casual patrons." 
The club has provided many of its members with a sense of belonging as the club has created a positive environment that has created new friendships over their passion for the games the club offers. For some members, being involved in an esports club has been a goal since high school and now at Oneonta, they are able to make that dream a reality. The club treasurer, Rose, has been involved in video games and the esports scene since middle school. In her interview she stated that she has used esports as mostly of a social thing, "I met Jacob and other friends through it, and I've used it to keep in touch with many of my high school friends when normally it would've been awkward to find something to talk about. It's been something to give me purpose and fun and a whole lot of social interaction when I'm not sure I would've gotten it otherwise. It's a huge part of what I am, and I'm so happy I get to share it with others and use my position here to push for so much growth in Esports here at Oneonta."
Tyler Pegg, the clubs public relations member said that he sees the club as a bit of a hub for all esports activity on campus: "We have this Discord at roughly 170 members, and while not all of them are always active, we have a lot of activity weekly. During this, we've been thriving!" The club has teams for League of Legends, Call of Duty, Rocket League, Fortnite, Smite, Super Smash Bros. Ultimate and they are working on making more by the day. They have competed in two SUNY (State University of New York) tournaments in the past year. Oneonta's Rocket League team took first place in both and had their Fortnite and League of Legends teams place as well. The club runs Twitch streams of their competitions on Tuesdays and Wednesdays at https://www.twitch.tv/oneontaesports, and you can follow the club on Twitter and Instagram at @esports_oneonta or join their discord at https://discord.gg/ZuSRB8b if you're interested in learning more about the club .