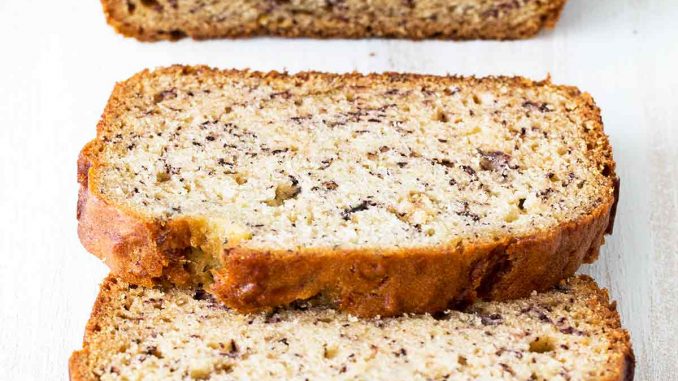 Erin Spicer, Arts Editor |
It's about that time in the semester when everyone is starting to feel a little stressed out, or in my case–a lot. I don't know about anyone else, but when I feel some mid-semester anxiety kicking in, I like to bake. It is a fun and easy way to get your mind off the stress of school and make something delicious. You can look up almost any recipe on the internet, and most take only an hour to prepare.
One of my favorite websites to use is livewellbakeoften.com. Baking is also a great way to make friends because, come on, who turns down home-made and freshly baked goods?
One of my absolute favorite things to bake is banana bread. It takes about 40 minutes to prepare and mix the ingredients, and an hour to bake. First, you will need to preheat your oven to bake at 350 degrees and spray a 9×5 inch bread/loaf pan with nonstick cooking spray. Next, you must gather your ingredients. You will need: two cups of flour, half cup of granulated sugar, quarter cup of brown sugar, half a teaspoon of baking soda, one teaspoon of baking powder, half a teaspoon of salt, one stick of unsalted butter, half a teaspoon of cinnamon powder, two eggs, one teaspoon of vanilla extract, half cup of chocolate chips and four ripe bananas. A few things I learned after making this recipe a few times: the riper your bananas are the better your bread will taste, and you want both the eggs and the butter to be room temperature so it will prevent you from getting sugar and chunks of frozen butter all over your kitchen and yourself.
Once you have everything you need, whisk together the flour, baking soda, baking powder, salt and cinnamon powder. When you have done that, set the bowl aside for later. Next, you want to put the granulated white sugar, brown sugar and butter into a new bowl and mix them together with either a handheld mixer or a standing mixer. You want to mix these ingredients until they are light and fluffy. Add the eggs and mix again until they are well incorporated. Next add vanilla extract and mix again. In a small bowl, or large coffee mug, take about four bananas out of their peels and mash them with a fork until you feel satisfied (this really helps getting rid of that pent-up anxiety from school). Add the mashed bananas to the sugar, eggs and other ingredients. Stir until all ingredients are thoroughly combined.
Once your bananas have been added, you want to take your dry ingredients and dump those in your wet ingredient bowl. Then, taking a dough scraper, gently mix the wet and dry ingredients until they are combined. This is the hardest part of making banana bread, as you don't want to over mix the ingredients because then your bread will not rise as well and have a nice, slightly crunchy top. But if you mess it up, don't worry! Everything will still taste delicious. The trick is to stop mixing once you can see occasional, very small pockets of dry flour in your mixture.
Next you want to add your chocolate chips. If you or whoever you're making this treat for does not like chocolate chips, you can substitute for walnuts or, if you're feeling frisky, you can always have both walnuts and chocolate chips. Once you add your chocolate chips or walnuts, you'll mix them into your bowl. Next you want to scrape your mixture into the bread/loaf pan, shake it out until it's evenly distributed in the pan and then pop it in the oven. Set your timer for an hour and relax.
Once the timer dings, stick a toothpick in the middle of your loaf. If the loaf is still doughy, pop her in for a few more minutes until the toothpick comes out clean. Once fully cooked, let the loaf cool down for about twenty minutes before serving. Or if you're like me and have absolutely no self-control, dig right in and have a tall glass of milk waiting to soothe your scalding tongue.