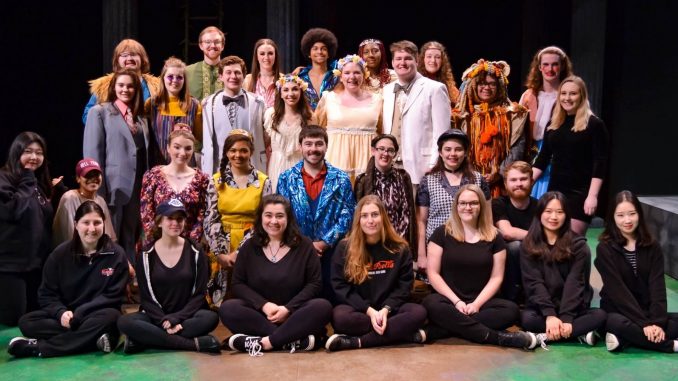 Maggie Clerici, Contributing Writer |
SUNY Oneonta's theatre department presented Shakespeare's "A Midsummers Night's Dream" on Feb. 28 – 29 and March 3 – 5 in the Hamblin Theatre. Originally, the play is set in the 1500s but in this production, it is visually brought to the 1970s. The show was directed by the chair of the theatre department, Andrew Kahl, who is also an associate professor of Acting and Directing.
Since the play was set in the 1970s, there were some changes made from the original play. All of the costumes were designed and pulled from the 1970s. One notable costume piece was a fit and flare cropped jacket that the character Puck wears which was covered with blue, black and silver sequins. Another outfit was Oberon's costume which was a flared, dark and multicolored jumpsuit. The costumes were designed by Marjean McCaslin-Doyle, who is the costume shop supervisor and a theatrical designer. "Yellow Submarine" by the Beatles played throughout some of the scene changes and in the end, there was a rendition of "Imagine" by John Lennon sung by some of the cast. Sound design was done by Natalie Costanza, who is a student at SUNY Oneonta.
After Friday's performance, audience members were starstruck by the show they had seen. Some were excited that it was a different take on a play that has been done for years and found it refreshing. With all of the aspects of the show, it really felt like a dream.