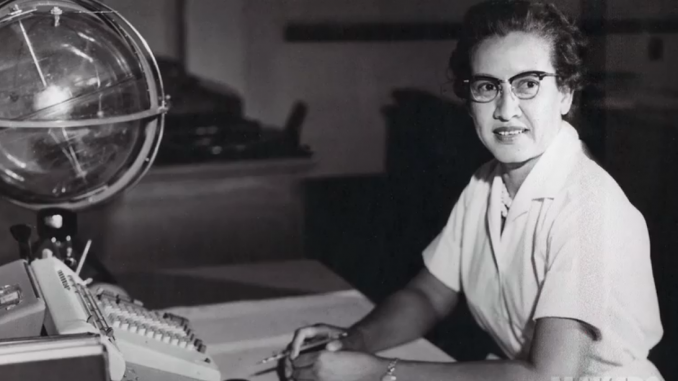 Zarina Sotero, Staff Writer |
Katherine Johnson, born on Aug. 26, 1918 in White Sulphur Springs, WV, passed away on Feb. 24, 2020 in Newport News, VA. Johnson had lived to 101 years old and passed away at a retirement home. Now, the world remembers the woman who gave us the moon.
Johnson was one of the first African American women to work as a NASA scientist. After years of being a teacher and, later, a stay-at-home mom, Johnson started working for NASA's predecessor, the National Advisory Committee for Aeronautics (NACA), in 1953. Johnson is best known for calculating and analyzing the precise trajectories that allowed Apollo 11 to land on the moon in 1969 as well as enabling it to return to Earth. However, she has contributed much more to the U.S. space program. Johnson also calculated the trajectory for Alan Shepherd in 1961, the first American in space. Furthermore, when NASA began using electronic computers, she was personally requested by John Glenn to recheck the orbital calculations made by the electronic computers for his flight aboard Friendship 7. Glenn, with the help of Johnson's brilliant mind, went on to become the first American to orbit the Earth.
Johnson's achievements, however, began when she was just a young girl. She had always loved math, and when recalling her childhood, Johnson said, "I counted everything. I counted the steps to the road, the steps up to church, the number of dishes and silverware I washed… anything that could be counted, I did." By the time she was 10 years old, Johnson was enrolled as a high school freshman. This was truly incredible and inspirational in an era when school stopped at eighth grade for African Americans who were even able to enjoy the luxury of an education. She had graduated high school at age 14 and enrolled as a freshman at West Virginia State College at age 15. She would then go on to graduate from college at age 18 in 1947 with a degree in math education and French. In 1939, Johnson was one of three African American students selected to integrate the graduate program at the then all-white West Virginia University.
Johnson has been honored with multiple awards throughout her life, including a NASA Group Achievement Award, the Presidential Medal of Freedom, the Silver Snoopy Award and a Congressional Gold Medal. The NASA Group Achievement Award was presented to the Lunar Spacecraft and Operations team, of which Johnson was a part, for pioneering work in the field of navigation supporting the spacecraft that orbited and mapped the moon in preparation for the Apollo program. Johnson received the Presidential Medal of Freedom in 2015, the Silver Snoopy Award in 2016 and the Congressional Gold Medal in 2019.
Katherine Johnson was a name that was not known by many. For so long, she was not credited for her astronomically brilliant work. She was portrayed by Taraji P. Henson as a lead character in Theodore Melfi's film "Hidden Figures," which was based on the non-fiction book of the same name by Margot Lee Shetterly about African American mathematicians who worked at NASA during the Space Race. Finally, everyone knows her name and all that she's done for NASA.