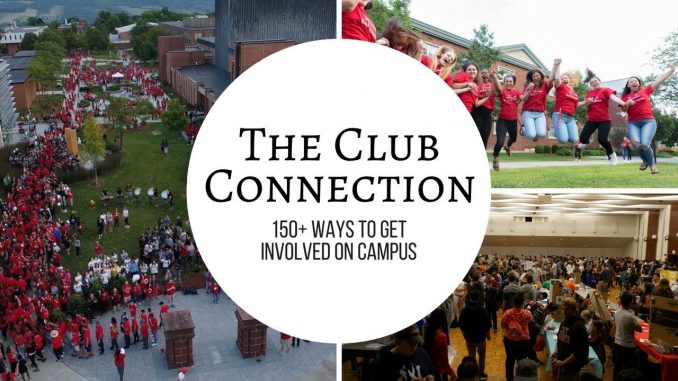 Zarina Sotero, Staff Writer |
Student clubs, organizations, sports, intramurals, etc. are a vital part of any college.  Many college students are a part of at least one of these extracurricular activities, some being a part of several different ones. There are so many reasons to become involved on campus, especially when there are so many organizations to choose from. On our campus, there are over 200 clubs and organizations students can join. You can choose an extracurricular that is geared toward your major, hobby or passion. 
In high school, you are encouraged to join clubs to become a well rounded person. Plus, it looks good to colleges you apply to. In college, it's the same situation. Being involved is a way to fill your résumé with experiences that will impress future employers. They want to see how versatile a potential employee is as a result of the skills they gain from extracurricular activities because it will bring more to a workplace. Employers want to hire those willing to take on a wide variety of tasks, can learn quickly, are observant and work well in a team as well as those who are able to take initiative.
Along with learning skills, extracurricular activities help students build community. They can find other students that they have something in common with. If you join a club or organization relevant to your major, members immediately have at least one thing in common. With people in the same major, there are endless things to talk about. You'll most likely be taking the same classes with some of the same professors, studying the same materials and looking for the same types of internships and jobs. When you join a club or organization for a hobby or passion, you find people who share the same interests as you. You may not have the same major, but you're all alike in one way or another because of the things you are involved in.
In both major and non-major settings, you find people who can potentially become friends. A lot of students have a hard time making friends, myself being one of them. It's really hard for me to just talk to any person and try to become friends, and I know I'm not the only one like this. The desire to meet new people is one of the most common reasons students aim to join new organizations. Most students on our campus are pretty far from home, so our fellow classmates are often all we have. Sure, we have our roommates, but it's nice to have more people to spend time and connect with.
A lot of students also join clubs and organizations that allow them to become connected to their school and get involved on a deeper level. At our college, we have clubs and organizations like the Activities Council and the Student Association. With extracurricular activities like these, students can help plan campus activities and become involved in student government. If you really want to make an impact on campus, these are some great extracurricular activities to join and be involved in.
Finally, some students just perform better in all areas when they're busy. It's nice to have free time, but too much of anything may prove detrimental. A lot of students prefer to be busy, and with extracurricular activities, you can do just that and manage your time better. I'm the type of person who cannot have too much free time on my hands. With too much free time, I get lazy and tend to procrastinate a lot, if not all, of my work and responsibilities because of the mindset that I have enough time to get to them. The truth is, I just end up wasting all of that free time and end up not being productive. Of course, this varies with every student, but you can choose how much of your time you want to be free by managing how involved you are.
It's never too late to become involved on campus, no matter how far into the semester it is. Most clubs and organizations will welcome new members with open arms. To find clubs and organizations to join, visit the Campus Connection site, which is accessible through your Blackboard. The State Times always welcomes new members, so if you would like to join our team and write for us, contact us at [email protected] or come to our story meetings every Tuesday at 5:30 p.m. in 5B, Hunt Union.