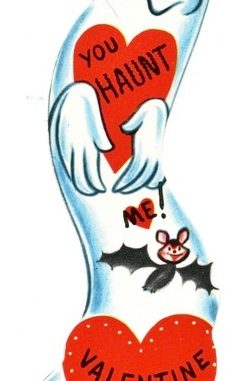 Daniella Fishman, Staff Writer |
Calling all Halloween enthusiasts! SUNY Oneonta's Fright Club is a place for the lovers of the spooky season to come and enjoy all things ghoulish. For Valentine's Day, Fright Club hosted an event with a scary twist. The Love is Scary party was held in IRC 7 on Thursday, Feb. 13th.

When I first entered, I was immediately greeted by welcoming club members, even though this was my first time at their club. The clubs executive board brought loads of chocolate, chips, drinks, Valentine's Day themed cookies and prizes. One of which was a heart-shaped box of chocolate, which I ended up winning in a raffle. For an hour, members of Fright Club came together and just hung out, some played board and card games, while others just chatted and made jokes. They played popular early 2000s love songs to keep the spirit of St. Valentine alive. The atmosphere was friendly and inclusive, they preached a "the more, the merrier" attitude towards new or prospecting members that joined the party.

President Nick Faccioli explained that Fright Club, though not that well known on campus, was rebranded from its original name "Zombie Defense Corp." Faccioli has been President of Fright Club going on two years now and has seen a lot of events in his time spent on the e-board. Some events hosted by Fright Club include the annual "Humans v. Zombies" event, which is a fun excuse to grab a nerf gun and defend yourself from your zombified peers. This semester's "Humans v. Zombies Nerf Gunfight" is scheduled in April. Fright Club also collaborated with the Harry Potter Club for "Death Day," on Halloween night. Its purpose is to provide a safe space for people to enjoy their Halloween night with friends and like-minded lovers of the spooky. Other planned events include Jeopardy and Family Feud, both with their own Halloween twist, in which participants have the chance to win candy and prizes! Nick Faccioli described Fright Club as "one of the most unique clubs out there, the fact that there is a theme that makes it unique. We're focusing on an actual genre, and come together to celebrate the spooky season."

I would like to say a quick "Thank you" to Nick, Karen, Corrina, Kate, Ashely and the rest of the members on e-board for being so welcoming and answering any questions about Fright Club.
Fright Club celebrates Halloween year-round with meetings every Thursday in IRC 7 from 7-8 p.m. You can follow them on their Instagram @sunyoneontafrightclub to keep up with club events. If you'd like to join Fright Club, feel free to stop into their meetings–all you need is a love of the ghoulish and ghastly.