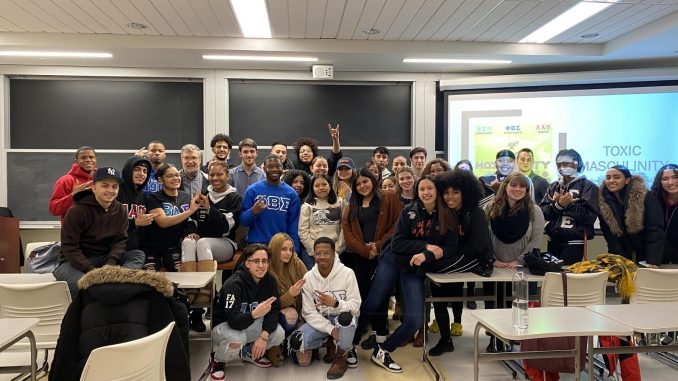 Eva Sarfo, Contributing Writer |
On Thursday, Feb. 13, three multicultural fraternities on campus, Phi Beta Sigma, Lambda Sigma Upsilon and Lambda Alpha Upsilon, held an event in Fitzelle Hall on toxic masculinity. This event presented a discussion on the socialization of men. The fraternities asked students to attend with an open mind with hopes of both debating and exploring the issues that toxic masculinity has created.
Masculinity is contemporarily understood to be a social concept used to define traits or characteristics related to men or how society believes a man should behave. Toxic masculinity is described as men using these traits to assert their dominance over women and to reject any feminine qualities. This in turn restricts boys and men from displaying their emotions or else they will be perceived as "weak" and "girly."
The students that attended posed questions in which they asked who toxic masculinity affects and if there was one concrete definition as to what makes a "real man." The event was not only educational, but gave students an opportunity to voice their opinions on how to address the problem.
Shawn Robinson of Phi Beta Sigma said the fraternities also presented ways for men to redefine what masculinity means to them. These tips included teaching boys that it is okay to cry and be themselves, to reject the phrase "be a man" and to enjoy activities outside of rough sports.
Robinson hopes that everyone who attended the event can go out and help break down the cycle of toxic masculinity in our communities. Bringing attention to this topic can help prevent men from suffering in silence.