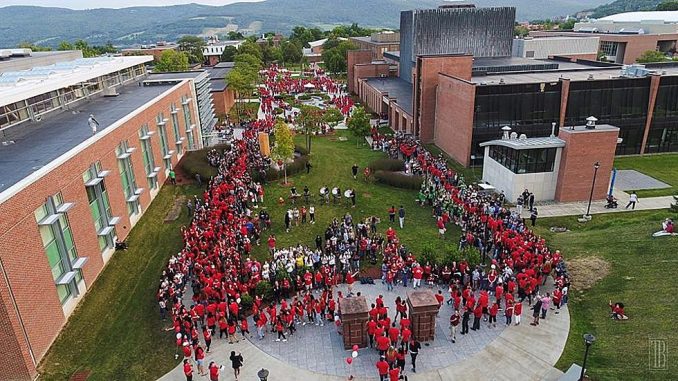 Colin Maruscsak, Sports Editor |
itting in my room this weekend, I could not escape the boredom that comes with slaving away over research papers and studying arbitrary vocab terms for general elective classes. I wanted to get out; I wanted to do something new. However, browsing around the flyers in my building's main lobby, it appeared that there were no fun activities or events happening on campus. It was already negative 10 degrees, so I was left with the choice to either sit in my dorm's study lounge or face the cold to take the bus into town. In the end, I spent another weekend inside combing over various homework assignments, with the same gloomy-gray mood as the sky above. While this may seem like a small problem when it comes to students' gripes about the Oneonta community, it is nonetheless still something that needs to be discussed.
For example, I work for Residential Life and we oversee programs and socials in our respective buildings to keep students engaged and happy. Even then, we only have about three or four larger scale programs, and those aren't always guaranteed to resonate with students. Furthermore, our programs only provide a few hours of entertainment at most and don't bring about an excitement that could help someone power through the week.
If you ask anyone at SUNY Oneonta what the best on-campus event is, you will probably get the same answer for two different reasons. Most likely, they are going to respond with "O-Fest." The reason they'll say O-Fest is either because they actually do enjoy the event, or they simply do not know of any other big on campus events. While O-Fest is a fun event that brings a lot of the campus together to have fun and enjoy themselves not only after a long year of work, but also to help as one last de-stressor before finals approach, this is not what I want to talk about. I want to focus on how people look forward to this event well in advance as it brings a certain "oneness" to Oneonta as a whole. Outside of that, however, we are left with months of isolation. Sure, there are smaller events on campus such as the ones Residential Life puts on, but those don't help target the larger community or generate the same hype as O-Fest.
While I am not going to try and claim that we need multiple big events throughout the year, having only one is a bit of a letdown, especially considering the precarious position O-Fest is in right now, with last year's being cancelled with nothing to take its place.
The whole school was let down. I'm sure that those who plan these events are hard at work, but I feel that we need more to do around campus and get excited for, rather than just create and celebrate arbitrary "drinking holidays." While this may not seem like a big issue now, I see multiple students transfer out and leave due to the fact that, as they say, there is just nothing for them to do here and they feel left out if they don't party. While at Res-Life, I know we do our part to try and host multiple events to keep students engaged, but I'd like to see some effort or some transparency from the larger planning committees on campus about this issue, especially considering it's reached the point where students are leaving because of it.