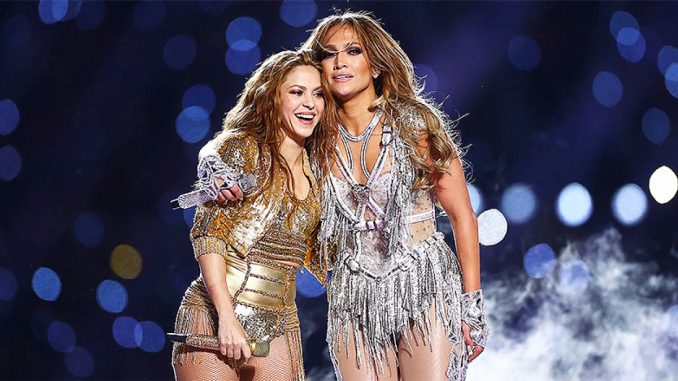 Zarina Sotero, Staff Writer |
The Super Bowl halftime show is watched by millions of people every year. For Super Bowl LIV, Shakira and Jennifer Lopez came together to make history as the first halftime show that featured Latinx artists performing music in Spanish in Super Bowl history. In their 15-minute performance—about six minutes of solo sets for each—Shakira and J. Lo highlighted some of their biggest hits.
Shakira kicked off her set in a glittery, all-red outfit with an army of female dancers in matching red outfits. She performed some of her biggest hits such as "She Wolf," "Empire," "Ojos Así," "Whenever, Wherever" and "Chantaje," ending with "Hips Don't Lie." The native Colombian also paid homage to her Lebanese roots during her set. "Ojos Así" is one of the few Shakira songs with Arabic in it. Afterwards, she performed a traditional Arabic solo belly dance. Notably, during her performance of "Hips Don't Lie," she fluttered her tongue at the camera. This "meme-worthy" moment was actually a zaghrouta, a long, wavering, high-pitched vocal sound resembling a howl with a trilling quality. Zaghroutas, a.k.a. ululation in English, are used mainly by Arab women to express joy and celebration. Shakira also brought out Puerto Rican rapper and singer Bad Bunny for a surprise cover of Cardi B's hit "I Like It," on which Bad Bunny is an original featured artist. Bad Bunny also accompanied Shakira when she sang her Spanish-language hit "Chantaje," filling in for Colombian singer Maluma. In her six-minute set, Shakira showed her versatility as a singer, dancer, drummer and guitar player.
J. Lo displayed her collection of hip-hop and R&B hits, starting with her New York style hip-hop hit, "Jenny From the Block." She also performed "Ain't It Funny," "Get Right," "Waiting for Tonight" and "On the Floor." J. Lo also performed intricate and complicated choreography, even showing off the pole-dancing skills she learned during the making of her movie, Hustlers. Another guest appearance was made by Colombian star J Balvin. Together, J. Lo and Balvin performed his hit song "Mi Gente." J. Lo was also accompanied by her daughter, Emme Muñiz, as well as a chorus of girls in a political statement during her set. Muñiz started off by performing "Let's Get Loud" inside what resembled a metal cage. As Shakira played the drums, J. Lo rejoined the stage in a double-sided cape with the Puerto Rican flag on one side and the American flag on the other as they performed the chorus to Bruce Springsteen's "Born in the USA." This was a powerful message and a gesture of solidarity to the Latin community affected by the anti-immigration policies.
For the finale, Shakira and J. Lo came together on stage to perform Shakira's fan favorite song, "Waka Waka," and closed the show with synchronized choreography. This Super Bowl halftime performance was historic, with Shakira and J. Lo being the first Latinx artists to co-headline one of the most-watched live performances in America. Along with the powerful political message, this performance will be remembered for years to come.