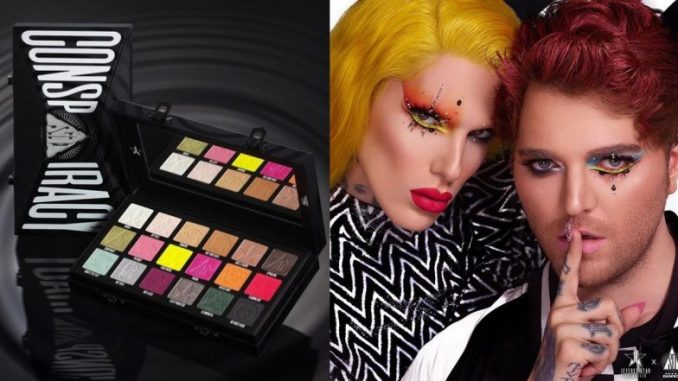 Phelysia Lewis, Contributing Writer
Jeffree Star and Shane Dawson Drop "Conspiracy"
On Nov. 1, Shane Dawson launched his Conspiracy eye shadow palette with Jeffree Star. The palette sold a staggering $1 million in just 30 minutes. The eye shadow palette name refers to the controversial conspiracy-investigating videos that built Dawson's massive YouTube following. Star and Dawson teased the collection in a six-part YouTube documentary series called "The Beautiful World of Jeffree Star."
Halfway through the series, YouTube beauty guru James Charles revealed he, too, would be releasing a palette with Morphe Cosmetics. Eye shadow palettes are a staple in the beauty community, and while fans are picking sides on who they support, the Youtubers themselves have not addressed the clash.
Drake Booed Off Stage at Music Festival
In concert news, rapper Drake was booed off the stage after making a surprise appearance at Tyler the Creator's Camp Flog Gnaw festival.
Tyler the Creator had hinted that there would be a special guest performance and most fans drew the conclusion that it would be singer Frank Ocean. After a poor reception, Drake asked the crowd if he should keep performing. He received a wave of boos and negative reactions from the crowd in response.
"It's been love. I love ya. I go by the name of Drake, thank you for having me," Drake said to the crowd. The "Teenage Fever" rapper then walked offstage, ending his set 20 minutes earlier than expected, according to Billboard.
Tyler the Creator went on to social media to express his unhappiness with his fans' actions.
"I THOUGHT BRINGING ONE OF THE BIGGEST ARTISTS ON THE F—ING PLANET TO A MUSIC FESTIVAL WAS FIRE! BUT FLIPSIDE, A LIL TONE DEAF KNOWING THE SPECIFIC CROWD IT DREW. SOME CREATED A NARRATIVE IN THEIR HEAD AND ACTED OUT LIKE A–HOLES WHEN IT DIDNT COME TRUE AND I DONT F— WITH THAT," Tyler wrote. "THAT S–T WAS LIKE MOB MENTALITY AND CANCEL CULTURE IN REAL LIFE AND I THINK THAT S–T IS F—ING TRASH."
Drake even took to Twitter to make light of the situation, posting a picture with the caption, "PLOT TWOST… JUST SIGNED A TEN YEAR RESIDENCEY AT CAM FLOG GNAW SORRY KIDS SEE YOU EVERY SINGLE YEAR UNTIL YOUR 30."
Instagram to Remove Public Likes
Instagram has made its users upset stating it will be hiding likes on the app.
After months of testing an option to hide likes in select international markets, Instagram is about to do the same for a number of users in the United States, a key market and the company's home turf. Instagram, which is owned by Facebook, has already been testing hiding likes in seven other countries, including Canada, Ireland, and Australia. Users will be able to see who has liked their own photos but their followers will not. A lot of users are against the change, stating that more then anything they want the timeline on there feed to be corrected and the algorithm to be fixed.
Some celebrities have already voiced some strong objections. Rapper and singer Nicki Minaj said she'd stop posting on Instagram if likes were gone. Rapper Rico Nasty tweeted that the change could "kill" Instagram. "I'm not saying it's bad. I'm saying people value 'likes' so I'm sure they won't be posting on there no more which means .. new app coming soon," she added. In a video on Instagram, rapper Cardi B said that nasty comments on Instagram are more of an issue than likes when it comes to users' well-being.
Some celebrities are in favor of the change, however. Reality star Kim Kardashian West recently said taking away likes would be "beneficial" for people's mental health.
Whether or not Instagram will permanently begin hiding likes the decision to test is an indication that this might be the future of the social media app.