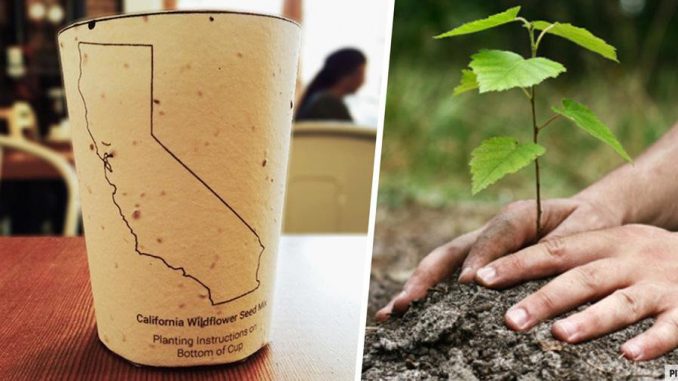 Jessica Kennedy, Contributing Editor |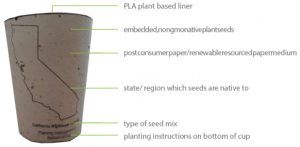 Americans drink around two cups of coffee per day, according to a 2018 Statista study. With this large amount of coffee consumption also comes significant daily disposal of such related products. The billions of cups of coffee being consumed each year leads to billions of paper cups left in oceans and landfills. On average, according to the Boston Globe, these cups take over 20 years to decompose in landfills. In oceans, the cups only take a few days to decompose but are made with dangerous elemental components, including polyethylene and chlorine dioxide.
In an effort to help reduce this overwhelming amount of waste, CEO Alex Henige of the company Reduce. Reuse. Grow. (RRG) has developed an alternative paper cup. The company branched off of Restoration Packaging who helpted to kickstart and fund these new cups. RRG's kickstarter allowed customers to buy products other than the coffee cups to help fund the company's research for more seeds able to withstand the process of becoming a coffee cup and being stable enough to be planted afterwards. These products included shirts, hats, and framed pictures of healthy landscapes of varying sizes. With the sponsorship from the kickstarter, RRG was able to get $21,000 to get their company off the ground and help the Earth with its environmentally-friendly cups.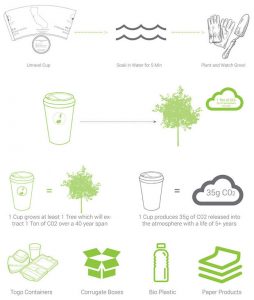 The coffee cup Henige's team has created is composed of plant-based plastic and is then embedded with seeds of varying regions depending on where the cups are being distributed. These cups are fully functional with the seeds being unaffected by the liquid and the heat due to the biodegradable plastic's protection.
Planting the cup after using it is simpler than it may sound. The bottoms of the cups are printed with their gardening instructions, explaining to users that they must simply unravel the cup, soak the cup in water for five minutes, bury it in the earth, then watch it grow. The company has also partnered with some stores who use their cups, allowing customers to leave their cups with the coffee distributors. These companies vow to garden the cups left behind for their customers, ensuring each cup is turned into a tree of that region.
With this environmentally-friendly alternative to paper cups, RRG is providing consumers with a way to limit waste and grow some much-needed trees for the environment. On the company's Facebook page, Henige posted a remark that he and the company have a goal to "set a new standard within the disposable foodservice packaging industry. We believe with each product served, we can have a positive impact within that local community."

RRG's sister company, Restoration Packaging, also sells biodegradable tableware such as hot and cold cups, takeaway containers, plates, bowls, trays, napkins, cutlery, and bags. Instead of also selling products that can be planted, this company promises to plant something for every product sold. With these environmentally-friendly products, the globe can take one step closer to reducing waste and increasing plant life.