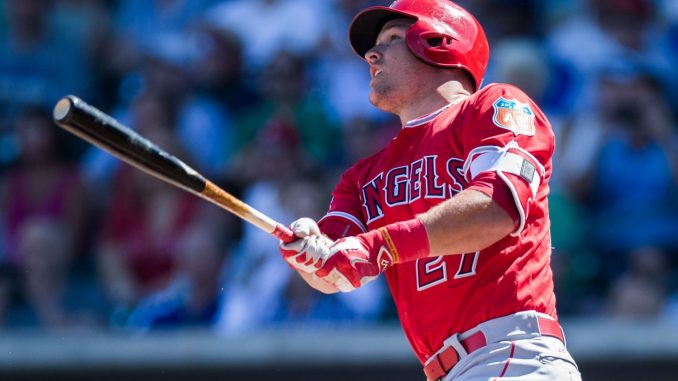 Tara O'Leary, Staff Writer|
The Los Angeles Angels recently extended their superstar centerfielder, Mike Trout. Originally, his contract was set to expire in 2020, but now has an additional 10 years added on, and the 27-year-old will most likely be an Angel for the rest of his career.
This year the MLB has seen quite a few record breaking deals. Initially, Manny Machado was awarded the largest free agent contract in American sports history when he signed a 10-year $300 million deal with the San Diego Padres. Less than 10 days later, Bryce Harper signed an even bigger deal, earning 13-years and $330 million from the Philadelphia Phillies. After seeing what the superstar free agents were receiving, Trout was able to acquire the largest deal of them all. "I kind of saw what Bryce and Manny went through and it drew a red flag for me," he said. "I didn't want to go through the next few seasons thinking 'am I going to get a deal or not?'"
Angels general manager Billy Eppler was on a flight back to Phoenix for spring training when he got a text saying that Trout wanted to be "an Angel for life." Team owner Art Moreno stepped in during the early stages of negotiations, having an hour long conversation with their franchise player. "He told us this is where he wanted to be, and we really wanted to make that happen," Moreno said. The contract discussions were "pretty smooth" according to Eppler, and the Angels reached a deal with Trout before the end of spring training. The star centerfielder now has a 12-year $426.5 million contract.
The Angels organization, along with Trout, held a news conference on Sunday afternoon at Angel Stadium, where the two-time American League MVP addressed a crowd of loyal fans. "I know there was a lot of talk about going back East, but I enjoy every minute being here," Trout explained. As a New Jersey native, Trout had been expected to return to the East Coast, potentially entertaining offers from the Phillies or Yankees during his free agency, however, Trout proved his devotion to the team that drafted him in 2009 and developed him into the player he is today. "This is my home. I love it. It never crossed my mind that I wasn't going to be an Angel for life," he told the crowd of cheering fans. "I want to bring a championship back to Anaheim." The Angels organization is very aware of what the seven-time All-Star means to their team. "This is an exciting day for Angels fans and every player who has ever worn an Angels uniform," said Moreno. "Mike Trout, an athlete whose accomplishments have placed him among the greatest baseball players in the history of the game, has agreed to wear an Angels uniform for his entire career."
With Trout off the table in 2020, this brings the attention over to Mookie Betts of the Boston Red Sox who will now be the most sought after free agent after the 2020 season. After watching the contracts grow throughout free agency, Boston fans have been speculating what kind of deal they would need in order to keep their star player. The 26-year-old didn't seem too concerned about it though. "We're all different players," he said after Harper signed. "We all have different things that are important. Good for those guys." Betts has led the Red Sox to three consecutive division titles and a World Series championship, while being a productive player both offensively and defensively. The New York Mets and reigning NL Cy Young award winner Jacob deGrom reached a deal this past Tuesday, going against what deGrom had stated earlier this offseason, admitting he didn't think he and the Mets would reach a deal before Opening Day. The deal is reportedly five-years, worth a total of $137.5 million. deGrom joins Justin Verlander and Chris Sale as top of the line pitchers to get contract extensions in the last week.