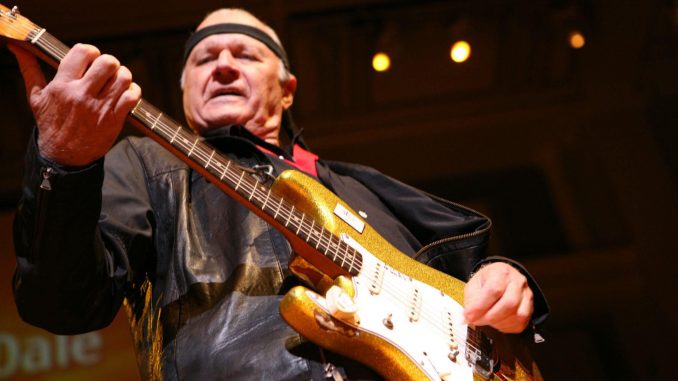 Maggie McCann, Contributing Writer |
Musician, surfer, and so-called "King of the Surf Guitar," Dick Dale, passed away on Sunday, March 17, in Loma Linda, California. He was 81.
Dale had been in Loma Linda University Medical Center for treatment for heart and kidney failure. His longtime friend Joseph Gieniec confirmed Dale's death.
He was born Richard Monsour in Boston on May 4, 1937, to parents Sophia Danksewicz Monsour, known as Fern, and James Monsour. Being Lebanese and Polish, the music of Dale's parents' heritage inspired him from childhood. Dale began playing music when he was very young, starting with a Ukulele then a guitar. Country music influenced him, and he set out to be a "cowboy" musician.
After moving to Southern California with his family in 1954, Dale found an interest in the ever-popular surf culture of the area. With his background and love for surfing, he began cultivating the beginnings of surf music.
The New York Times describes the unique genre of surf guitar as "a musical expression of the elemental surge of the ocean, with its savage waves, its volatile crosscurrents and its tidal undertow. He played melodies that crisscrossed the beat with the determination of a surfer riding through choppy waves, forging a triumphant path above deep turbulence."
The uniqueness and strength behind the sounds of surf music also led Dale to pioneer some of the great innovations of electric guitars and amplification. Dale teamed up with Leo Fender to figure out how to take the ferocity of his music to the next level after repeatedly blowing the commonly used 10-watt amps. "To remedy this problem, Fender created the first 85-watt transformer, which peaked at 100 watts," says the Fender online publication. It continues, "Dale and Fender would continue to work together on upping the ante, building a speaker cabinet that could house two 15-inch speakers […] that needed an even bigger transformer, so they teamed with the Triad Company to design a 100-watt version that peaked at 180 watts."
The musician's unique sounds reached more than just surf music fans, inspiring much of the Beach Boys most popular music as well as Jimmy Hendrix and indie rockers who were drawn to Dale's untamed sound.
Dale's career began to slow down in the 1960s amid the "British Invasion" era of rock but in 1994 things kicked back into gear for the then 56-year-old when his hit song "miserlou" was nabbed as the opening number in Quentin Tarantino's classic "Pulp Fiction." This led to television, commercial, and movie spots as well as a generation of new fans and three new albums.
Dale's struggle with cancer and related health issues in his past was widely known, but he was also known to play through an illness. In an interview with California Rocker in 2015, Dale had said "Don't worry about yesterday and don't worry about tomorrow," continuing "Don't worry about yesterday because it's used. It's either good, or it leaves you feeling bad.  And don't waste time or energy worrying about tomorrow.  I could have a stroke and be dead. That's why they call it the present.  It's a present."