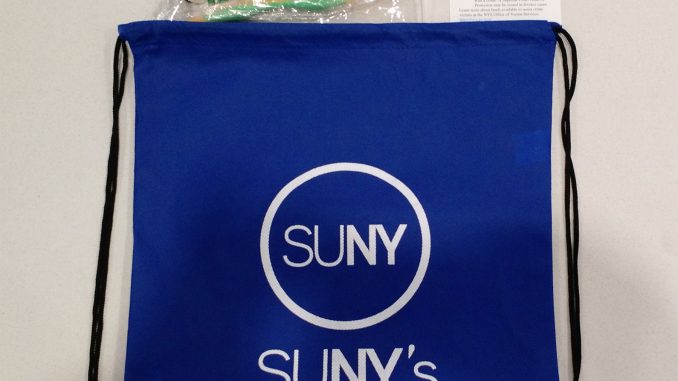 Katie Hebert, Casey McShea, Staff Writers |
SUNY Oneonta held "SUNY's Got Your Back" on Wednesday, March 13, in the Waterfront Room of Hunt Union. The event took place from 1:00 to 5:00 p.m. with speaker Zeke Thomas, a renowned DJ and activist, speaking at 6:00 p.m. as to his personal story: surviving sexual assult and overcoming trauma, with hopes of sparking positive change.
The "Got Your Back" event involved efforts to pack 2,500 care bags. Drawstring bags were filled with shampoo, soap, toothbrushes, notebooks, stress balls, and other items that would be distributed to people entering domestic violence shelters or sexual assault exams at hospitals. SUNY urged that these bags go directly to the people who need it.
SUNY Oneonta's own "kNOw violence" campaign tabled alongside organizations like Legal Aid and Opportunities for Otsego's Violence Intervention Program. Many student organizations and offices on campus, such as the New Student Services as well as many sororities and fraternities participated to help assemble bags, or to help supply the materials and package the bags to be shipped out.
Delsy Joya-Reyes, a SUNY Oneonta alum, was also at the event as a Staff Associate for "SUNY's Got Your Back," where she could be spotted packing the bags into boxes to be delivered out. Her role allows her to organize these events with the 64 campuses under SUNY. Being an alum of the college and witnessing this event take place at her previous institution, she said, "The Oneonta event was very special to me. It's a privilege and an honor to be back at my alma mater. Seeing familiar faces from students to faculty and staff really made this event so much more special. SUNY Oneonta did in fact reach the goal of 2,000 assembled bags. The turnout was great! We saw many on campus organizations and even some local community organizations as well. I must give some massive credit to Rebecca Harrington and all the volunteers that stuck around for the event. It made the event so memorable for me."
While recognizing that these bags do provide material support and supplies that survivors may need, SUNY also "recognizes that in addition to providing comfort to victims of violence, we must go beyond the bag and work to turn the dial on incidents of sexual and interpersonal violence through prevention education, and to ensure trauma-informed response when violence does occur."
Taylor Ashton, a Victim Research Coordinator, advised that if you do know someone who is a survivor of sexual assault or domestic violence, the best thing to do is "to remember that this is still a person; even though they're going through this really traumatic thing, to not think about it and try to talk to them as if they're still a person."
"Ask them how they are, try to just start any kind of conversation with them. Just genuinely ask them what they need from you," Ashton continued. "One of the best things anyone can do is just ask permission for all kinds of things. Give that person power back and make them feel like they're in control of a situation. Giving them the power to ask if it's okay for you to talk about these things, ask if it's okay for you to be in the room with them, or be there for them, or any of these things."
As described by Joya-Reyes, "SUNY's GYB originated in April of 2016, thanks to its founder Joseph Storch. Initially, a year-long project with a goal of only 2016 bags, SUNY's GYB is now aiming for 50,000 bags this year." Since the event at SUNY Oneonta's Hunt College Union, SUNY's Got Your Back held events to pack bags at many other SUNY campuses, such as University at Buffalo, SUNY Broome, SUNY Erie, SUNY Cobleskill, and SUNY Canton.
If you or someone you know has been a survivor of sexual violence, know that you are not alone and this is not your fault.
Here are some resources:
RAINN National Sexual Assault Hotline: Call 800.656.HOPE (4673) to be connected with a trained staff member from a sexual assault service provider in your area.
Crisis Text Line:  Text HOME to 741741 in the United States.
Office of Health Education: #125 Counseling, Health & Wellness Center (607) 436-3540