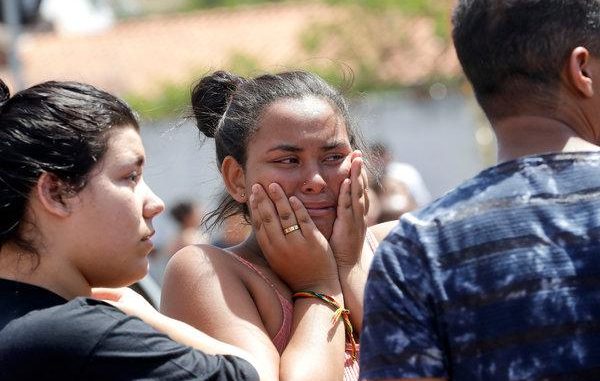 Maggie McCan, Contributing Writer |
Shots rang out through the hallways of the Professor Raul Brazil school in Suzano, Brazil, this past Wednesday, March 13, as two former students broke into the school and opened fire, killing eight individuals—seven inside the school and an owner of a nearby used car business—before turning their guns on themselves.
Of the seven individuals inside the Professor Raul Brazil school, five were students and two were employees. Police say the students were all around the age of 15. Nine others were wounded in the attack.
Governor João Doria of São Paulo visited the school just after the tragic incident, saying, "It's the saddest scene I've witnessed in my whole life."
The police reported that the two attackers, identified as 17-year-old Guilherme Taucci Monteiro and 25-year-old Henrique de Castro, entered the school effortlessly. While inside the school, the two donned masks, handguns, a crossbow, a hatchet, and fake explosives. It's likely that the two didn't arouse suspicion upon entering the school because they were both former students.
The Suzano community held a wake the day after the attacks, mourning the loss of children, family members, and friends. "I couldn't sleep. I have two children in school, and they are about the age of the victims," said Wanda Augusta to PBS World News during Thursday's wake. So many community members of the Brazilian suburb are shocked and disturbed by Wednesday's events.
Monteiro's mother explained in a discussion with Band News that her son was bullied at the school: "Bullying, they call it [….] stopped going to school […] because of this," she said. She continued saying she was surprised by her son's involvement and heard about it on the news just as everyone else had.
Wednesday's shooting was a rare occurrence, as the last school shooting in Latin America occurred back in April 2011 when a gunman opened fire at a school in Rio de Janeiro, killing 12 students.
Wednesday's incidents also comes just months after Brazil's president Jair Bolsonaro issued a decree making it easier for citizens to own guns, disrupting a nearly 16-year-old disbarment law. Bolsonaro ran on a campaign that advocated for lighter gun laws, claiming it would help crack down on criminals if citizens could defend themselves.
After the attacks at the Professor Raul Brazil school, it is not surprising Bolsonaro's policies have come under fire. Sen. Major Olimpio, a supporter of President Bolsonaro's policies, tweeted just hours after Wednesday's devastation:
"We can't let those who take advantage of this tragedy speak about how disarmament is the solution." Weak and shameful 'disarmament farce,' which gave guns to criminals and prevented self-defense."
After the Brazilian president's policy changes, gun sales have skyrocketed, and gun ranges have been opening all over Brazil. When speaking to the Washington Post at one of Rio De Janeiro's gun ranges, 26-year-old Laudine Roque defended her gun use and training saying, "I don't want to be next."
Police are still determining where the two men attained the pistols used in Wednesday's shooting. Sou Da Paz, which translates to "I come in Peace" is a Brazilian organization that aims to reduce violence in Brazil. "The people who purchased the gun may have been well-intentioned," Sou Da Paz Executive Director Ivan Marques said. "But ultimately, it's one more gun in circulation that can become available for these kinds of atrocities."
As far as it has been seen it does not look like Wednesday's disaster at the Professor Raul Brazil school has affected the Brazilian government's stance on gun safety laws.