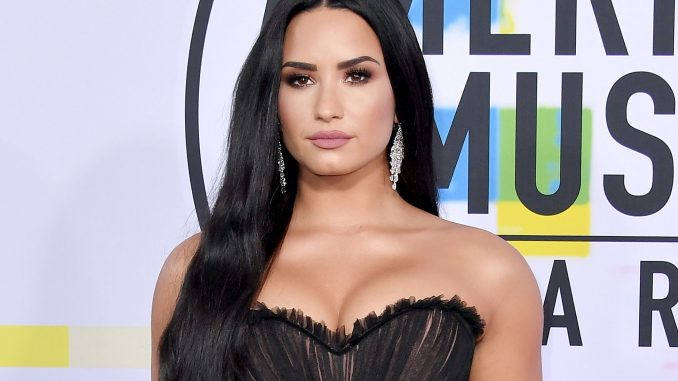 Tara O'Leary, Staff Writer |
Demi Lovato's social media profiles have been relatively quiet since the singer overdosed in July. There have been just a handful of posts on her Instagram over the last eight months, but on what would've been the anniversary of her seventh year sober, Lovato took the time to publically open up about her journey. The 26-year-old reflected on her past through a series of Instagram stories. "Today I would've had seven years sober," the singer wrote. "I don't regret going out because I needed to make those mistakes but I must never forget that's exactly what they were: mistakes."
A year ago, Lovato had proudly celebrated her sixth year sober by posting a screenshot from her 12 Steps app, which keeps track of sobriety by years, months, days, and hours. At the time, she was on tour with DJ Khaled and Kehlani, performing songs from her latest album, "Tell Me You Love Me." During her performance, Lovato's tour mates joined her on stage to acknowledge her huge accomplishment. "What you've overcome, through trials and tribulations, through dark clouds, you've found the sunshine and now the sun is shining on you forever," said Khaled as the crowd cheered in support. He and Kehlani then prompted fans to join them in singing a rendition of "Happy Birthday" to celebrate, creating one of the most memorable moments of the entire tour.
By August, Lovato released "Sober," an emotional ballad with lyrics to confirm that she had since relapsed. "To the ones who never left me, we've been down this road before. I'm so sorry, I'm not sober anymore" she sings on the chorus.  About a month earlier, she was hospitalized for over a week after a near-fatal overdose. "I've learned that this illness is not something that disappears or fades with time. It is something I must continue to overcome and have not done yet," Lovato wrote in a statement. "I will keep fighting."
Since she left rehab in November, the former Disney star has done exactly that. According to PEOPLE magazine, she is "taking care of herself and is in a positive place." After a rough year, Lovato welcomed 2019 with hope and gratitude, "I will never take another day in life for granted, even the bad ones," she posted.
Currently over six months sober, the "Sorry Not Sorry" singer is still carrying that positive outlook even on what could have been the seventh anniversary of her sobriety. "I didn't lose six years, I'll always have that experience but now I just get to add to that time with a new journey and time count," she stated on her Instagram story. The pop star also praised the help she received along the way, writing "AA/NA never shuts the door on you not matter how many times you have to start your time over." Lovato first entered a rehab facility back in 2010, where she received treatment bipolar disorder, self-harm, bulimia, and addiction.
Now out of rehab once again, the Grammy-nominated musician is still fighting and encouraging others to do the same. Lovato wrapped up her multiple-story post with inspirational words for those struggling with addiction. "If you've relapsed and are afraid to get help again, just know it's possible to take that step towards recovery. If you're alive today, you can make it back. You're worth it."