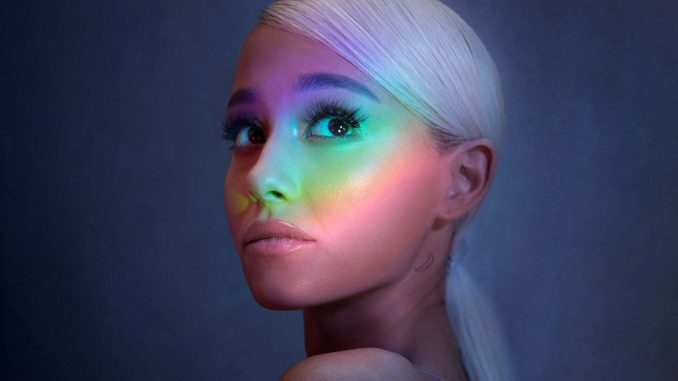 Tara O'Leary, Staff Writer |
Last week Ariana Grande kicked off her long awaited "Sweetener" tour in Albany, NY. She brought along duo Social House and former Fifth Harmony member, Normani, as opening acts. Before anyone even took to the stage, attendees were breezed through security, thanks to a suggested rule by Grande that fans either don't bring bags or bring clear ones. For the tour, the singer has partnered with HeadCount, a nonprofit organization that sets up voter registration booths at concerts. "Together, we designed #thankunextgen, a program to help Ariana's fans make their voices heard," the organization tweeted.
The show is packed with star power from its opening acts to its headliner. Normani managed to fit a lot of content into just a 30-minute set, including a Rihanna medley and a few Fifth Harmony hits, along with her own recent releases and collaborations. Ben Siegel of Buffalo News called her performance the "most perfectionist, prepared, researched and executed opening set I've ever seen." This is all before the pop superstar even takes the stage to perform songs from her latest projects, including the Grammy awarded "Sweetener" and her most recent chart topping album, "Thank U, Next," which saw every track debut within the top 50 on the Billboard Hot 100.
Grande's show began the same way her fourth album did—by singing the a cappella intro track "Raindrops (An Angel Cried)" from off stage as fans erupted into cheers, waiting to catch a glimpse of the 25-year-old. Her actual entrance came just after as a platform rose up on the main stage while the opening notes of "God is a Woman" played. Grande recreated her VMA performance of the song by alluding to the Last Supper in her choreography. From there the show was up and running; Grande would plow through a 30 song set list.
Her stage design was simple, with a runway that wrapped around the pit and a much smaller B-stage in the middle, up close and personal with her fans. Two large moon-like orbs were also incorporated. One hung from the ceiling and the other was in the center of the stage's backdrop, working perfectly with the cosmic visuals of the show. She took to the stage in her signature ponytail, thigh high boots, and various Versace designed costumes. The set list was broken up with four interludes that allowed the pop star to change outfits and prepare for the next set. The first of these interludes included a home video of a young Grande recreating a Jim Carrey monologue from his 2003 movie, Bruce Almighty. She filled the other three slots with covers from Frank Ocean, Marilyn Monroe and with one of her own songs.
The singer soared through her recent hits, including "Break Up With Your Girlfriend, I'm Bored" and the seven week chart topper, "7 Rings." For the number one song in the country, Grande has a pink car on stage, similar to the one in the music video. The Cadillac is spray-painted with rings and the name of whichever city she's in that night. Tracks from her Grammy awarded album highlighted the show, with Rolling Stone calling "Breathin" her "finest vocal performance of the night." The Imogen Heap sampled "Goodnight N Go" was also a favorite, as Grande made her way to the B-stage for a performance so raw she cried on the tour's first night. While playing ten songs from "Sweetener" and nine from her latest album, Grande also acknowledged her past work.  With a mashup of "Right There," "You'll Never Know," and "Break Your Heart Right Back" the singer gives a nod to her first two albums. She also sang her hit, "One Last Time," which now has a strong connection amongst fans to the victims of the Manchester bombing. The singer initially left the stage after a performance of "No Tears Left to Cry," but after an outfit change and the unending screams of countless fans, Grande returned for one last song, perfectly wrapping the show up with "Thank U, Next."
Rolling Stone called the tour both a "victory lap" and also a "proof of life" after the rough time that Grande had this past year. "We've seen the ups and downs of her mid-twenties played out so publically and honestly," they wrote, "and if we've learned one thing from her, it's that all we can do is acknowledge them and recover as best we can and say 'Thank u, next show.'"