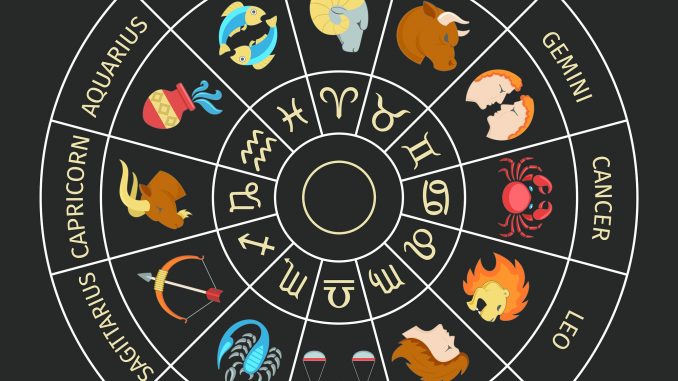 Aries (March 21-April 19)
Things are getting luckier by the second for you, Aries! With your birthday season coming up and spring peeking out through the air, you'll be sure to blossom this week. You are full of enthusiasm and confidence, which is the exact energy you need to get through this point of the semester! Be sure to spread that confidence and positivity to all your friends who are also stressed (and try not to spread any illness… seriously the weather changes can be brutal; wash your hands).
Taurus (April 20-May 20)
Taurus, now is not the time to be as bull-headed as you are. Sometimes, it can be typical of you to be so stubborn, but your resentment and inflexibility will prevent you from many opportunities this week. Allow yourself to be open to possibilities and try new things. By stepping outside your comfort zone, you'll be sure to land yourself in a whole lot of luck. Stay patient; good things are coming your way.
Gemini (May 21-June 20)
Everything seems to be working in your favor this week, Gemini! Your adaptability is coming in handy as everything around you starts to speed up (55 days before graduation, of course you're flexible). You can be the master of keeping calm under pressure when you want to be, Gemini, and this week will be sure to show that! Channel your lively side to avoid burning out and tensing up; allow yourself some relaxation this weekend!
Cancer (June 21-July 22)
Cancer, you need to come back down to earth; your imaginative personality is full of beauty and wonder, but it is getting you a little carried away recently. Grounding yourself will help get you through the week, as it will present challenges that require you to stay focused and to get your head in the game (was Troy Bolton a Cancer? Think of him for some inspiration this week). Staying focused now will allow you to float on the rainbow with a lot more ease later!
Leo (July 23-August 22)
Leo, your luck just keeps coming! Your generosity and creativity is making way for lots of good things to happen; keep it up! You are spreading a lot of positive vibes in the heat of the semester, and everyone around you is grateful for it. That good energy will come right back to you in lots of good rewards, so congrats on that good karma! Take some time to be generous to yourself; you deserve it!
Virgo (August 23-September 22)
Something's holding you back, Virgo—what is it? Your diligence and practicality usually results in your benefit, but now you're stuck worrying and being overcritical. Analyze what's making you so scared and try to tackle it. The spring is an opportunity for a new beginning, so try new things and step outside of your comfort zone!
Libra (September 23-October 22)
Libra, things are getting rocky for you. Are you not adjusting to the weather change well? You're known for being easily influenced and indecisive, and with the unevenness of March that can send you over the edge quickly! Be sure to stay steady, or else you'll be running out of luck fast.
Scorpio (October 23-November 21)
Scorpio, take a breath! You are overwhelmed and stressed out, and as the semester continues to pick up, it can only get worse. Channel your determination and forceful energy this week, and get things done! Soon enough, that pot of gold will be yours and all the hard work will finally pay off. Breathe; you will pass the class, you will graduate, you will get the job, everything will fall into place; allow the stars to work their magic.
Sagittarius (November 22-December 21)
Luck is in the air for you, Sagittarius! While St. Patrick's Day just passed, the holiday is still on your side! Is there a new job opening up that is screaming your name? Is there a scholarship that you know you're qualified for? Is there a special someone you've had your eye on for a while? This week, take the leap and make some moves! It's better to slide down the rainbow into a pot of gold then to not try at all!
Capricorn (December 22-January 19)
Capricorn, you know that saying about good thoughts create a good life? That's what you need to follow this week! You've been extra pessimistic and negative, and any bad energy will easily turn into bad luck for you if you're not careful; check yourself, let go of those grudges, and think positively! Good energy will present good luck!
Aquarius (January 20- February 18)
Aquarius, you are riding a high this week! Your honesty and loyalty help present you to others as a great resource and guide this week. All the good karma of being so friendly and humanitarian is coming in spouts of good luck! That being said, don't forget to take a breather for self-care to recharge. Keep doing what you're doing to support the people around you; it will all come back to you in good fortune.
Pisces (February 19-March 20)
While your birthday season is winding down, Pisces, the luck doesn't have to! This week, allow yourself to tap into your intuitive and sensitive side a little more than usual, and allow yourself the confidence to be more open and expressive. Your strengths lie in your kindness and compassion, so utilize that this week to take advantage of all the luck you can! Embrace your vulnerability, it will grant you some golden opportunities.