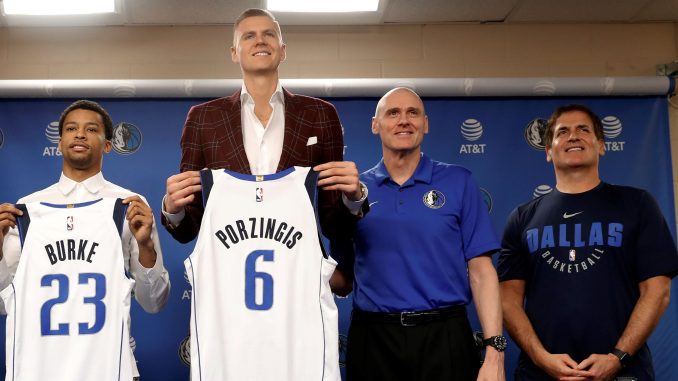 Tara O'Leary, Staff Writer| 
New York Knicks fans said goodbye to Kristaps Porzingis in a matter of hours on Thursday, Jan. 31. The star forward met with the team that afternoon in what was thought to be a normal meeting. However, ESPN's Adrian Wojnarowski reported via Twitter at 1:44 p.m. that Porzingis "expressed his concern with the losing franchise direction".  A little over an hour later, Wojnarowski then tweeted again stating that Porzingis wanted to be traded. By 3:37 p.m., Marc Stein reported that the Dallas Mavericks were close to reaching a deal with the Knicks. Over the next few hours both teams were ironing out the details of a trade, involving multiple players and future draft picks. By 6:06 p.m., the deal was done. The Knicks sent Kristaps Porzingis, Tim Hardaway Jr., Courtney Lee, and Trey Burke to the Mavericks. In return, New York received Dennis Smith Jr., DeAndre Jordan, Wesley Matthews, and two future first-round picks.
When the Knicks learned that their former fourth overall draft pick wasn't planning to commit to them long-term, they knew they had to move fast, and they certainly did. "Quickest deal of all time," tweeted Washington Wizard's guard Sheldon Mac. New York reportedly received between eight and ten offers from teams around the league, but the Mavericks'offer checked off three big requirements according to the New York Post: a rising prospect on a rookie contract (Dennis Smith Jr.), expiring contracts with Wesley Matthews and DeAndre Jordan, and future first round slots in the draft. "We started to get a feeling, we could see that he wasn't completely buying into what we were trying to do," said Knicks President Steve Mills in regards to the quickly constructed deal. "We felt that in the best interests of the organization, and the Knicks fan base too, that we had to make a move here." For the Mavericks, they now have a more than capable co-star for rookie Luka Doncic and veteran Dirk Nowitzki. Following the trade, Porzingis tweeted, "New York will always have a special place in my heart. Grateful for everybody who made this journey so special for my family and I."
The deal with Dallas also opens up a large amount of cap space for the Knicks. "The Knicks could be staring at 74.6 million dollars in projected cap space for next season," ESPN's Bobby Marks reported. With that much space, New York will have the opportunity to land two big contracts. The Knicks could be looking at Kevin Durant, Kyrie Irving, Kawhi Leonard, Kemba Walker, or even Klay Thompson in the offseason. New York could also potentially slide into the Anthony Davis conversation. If New Orleans doesn't deal Davis by the NBA draft and the Knicks have a high enough draft pick, a trade could be crafted to catch the Pelicans' eye. Regardless of where they land, the Knicks are looking forward to filling their cap space. Upon hearing the news of the trade and their future free agent possibilities, fans have already started to Photoshop images of Durant and Irving in Knicks jerseys.
There is still a risk that these star players won't sign with New York. Porzingis wasn't confident enough in the Knicks' future to stick it out with them, and other players might feel the same way. While the Knicks want to paint a picture that things will be different, their current record says otherwise, as they are sitting at 10-46, good enough for last place in the Eastern Conference.
The New York Knicks' potential moving forward is huge. This summer is vital; signing two superstars and drafting a high caliber player could totally turn their franchise around. Still, there is a chance that they could miss it all. Either way, the future is in their hands.