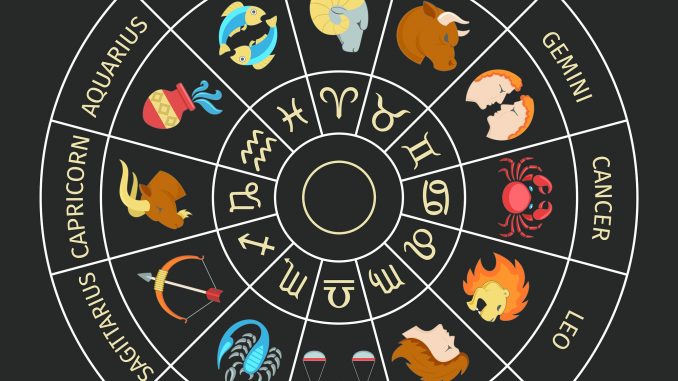 Aries (March 21-April 19)
You're walking a fine line this week, Aries. With love in the air, your confidence is at an all-time high. While you're determined and honest, your optimism might throw you for a loop with how impulsive and impatient you can be, but don't let that ruin any potential sparks from flying this week. Let your passionate side shine, but don't go in way over your head. A let down from high enthusiasm will lead to aggression, which is not the energy this romantic holiday intended!
Taurus (April 20-May 20)
Your stability will be an object of envy this week, Taurus. You're obviously devoted, but also practical and responsible, which is helpful while everyone is falling head over heels around you, but don't allow that to turn into a stubborn situation. It is important to be especially accommodating and flexible! Who knows, by letting your guard down you might be surprised by that cutie you've been eyeing!
Gemini (May 21-June 20)
Gemini, this is your time to shine! You are gentle and affectionate—great qualities for Valentine's Day! You are also very adaptable and have an ability to learn quickly, which corresponds perfectly with taking that leap of faith this week. You have a tendency to get nervous and indecisive, but this week demands consistency, and your positive qualities are begging to be utilized for the best Valentine's Day ever. Be sure to take deep breaths before making any moves, and you're nearly guaranteed to get that date!
Cancer (June 21-July 22)
Be careful this week, Cancer. Your insecurities are showing, and while you are very imaginative, your pessimism might be holding the reigns and leading the way this week. For Valentine's Day, be sure to tap into your emotional side and allow yourself to be vulnerable without being insecure. If there's any negativity or bad reactions, remember that self-love comes first! Don't be afraid to take a risk and allow yourself to lend the loyalty you extend to others back to you.
Leo (July 23-August 22)
Leo, don't get lazy this week! You are full of creativity, passion, generosity, and humor—utilize your strengths! The weather can bring a tired slump, but now is not the time to get lazy and stubborn. If you're planning a nice surprise for your boo, or preparing to ask someone to be your Valentine, you'll want to use your creative mind to woo them! Even a simple gesture can turn into something innovative, think outside the box!
Virgo (August 23-September 22)
Virgo, stop worrying! You can be overly critical, especially of yourself, which holds you back from infinite possibilities this week. Instead of enjoying the magic of Valentine's Day, you are too busy being analytical of the gushiness—be gushy! Allow yourself to enjoy the romance and have fun! Look on the bright side—there'll be half off chocolates on the fifteenth!
Libra (September 23-October 22)
Libra, what happened?! Within a week you went from being in such good luck to avoiding any form of confrontation! Your social butterfly is feeling like hiding this week, when now is the best time to come out and shine! Stop carrying a grudge (especially about that ex from two years ago… let them go). Your self-pity is preventing you from opening up and embracing all the possibilities of this week! Take a deep breath and make that step, you'll be glad you did.
Scorpio (October 23-November 21)
Scorpio, you are on a roll this week! All the stars are aligning to highlight your strengths—what's a more perfect time to be resourceful and brave than during the season of love? Step outside your comfort zone and allow your passionate side to shine! This week might be rocky for some, but you are strong in the support department and can be a true friend; be sure to use that to help mend any broken hearts! Remember, chocolate is half off on the fifteenth and the romance section on Netflix is bursting with favorites, so be ready to whip out that remedy for your friends!
Sagittarius (November 22-December 21)
Don't bite off more than you can chew this week, Sagittarius. This is not the time to promise more than you can deliver. It's okay to have limitations, but leading someone on is just mean. Honesty is the best policy (and with your great sense of humor, you can lighten a tough conversation easily! Okay… don't use too much humor… it might come off as being even ruder). You have a generous heart, but don't overextend yourself. Make sure your Valentine this week is yourself!
Capricorn (December 22-January 19)
You are on a slow incline, Capricorn; keep riding the wave up! While you are usually hesitant and are expecting the worst, you have been showcasing your bravery and strengths recently and it has been coming back to reward you! This week is promising, so be sure to take those chances you were nervous about before! Even if it doesn't go your way, what do you really have to lose? You'll definitely get a date—whether it's with that cute barista or Ryan Gosling in "The Notebook" is the real question.
Aquarius (January 20- February 18)
Aquarius, you're still rocking it! With your birthday season still going strong, you're thriving on the high of self love! This is perfect for you; you are progressive, original, and independent, and this is the perfect season to point all that love to yourself! Focus on staying grounded and balanced this week, because you can't pour from an empty cup! There's no use worrying about someone else this week when it's still your birthday season and you want to be your own Valentine! Treat yo' self!
Pisces (February 19-March 20)
Pisces, you have a big week ahead of you. A lot is being asked from you, creatively and emotionally. Be sure to utilize your artistic skill in orchestrating the most unique Valentine's Day ever. While you can be overly trusting, don't let that hinder you from making some valuable connections this week. Everyone around you will admire your compassion and your originality, so continue to be the wise love guru that you are.