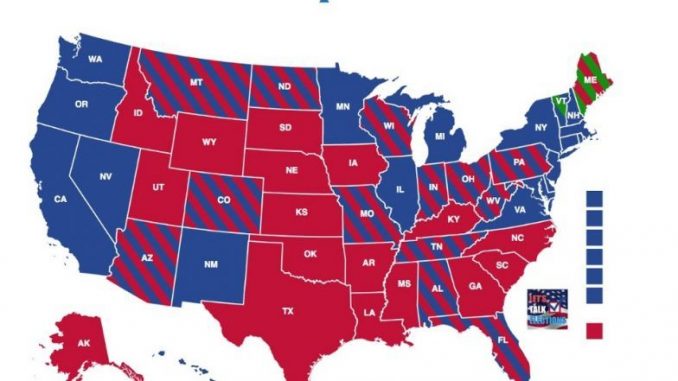 Casey McShea, Staff Writer |
The 2018 midterm elections set all kinds of new records, starting with being the first midterm to exceed 100 million votes, according to CBS News. An estimated 113 million voters cast their ballots at their nearest polling locations.
According to the United States Election Project, nearly 48 percent of eligible voters exercised their right during the 2018 midterms, compared to almost 39 percent in the 2014 election. The high turnout was expected. As of November 1, the number of Texans who had cast an early ballot had topped the state's entire turnout for the 2014 midterms. Another 19 states, plus the District of Colombia, saw an early voter turnout in comparison to that of the 2014 election cycle. Much of these statistics come from younger voting generations. More than 3.3 million voters, ages 18 to 29, voted via absentee or early ballot, an 188 percent increase from 2014.
Democrats took control of the House of Representatives, gaining more than 23 seats, while Republicans held the Senate on November 7. House Democrats are preparing to launch investigations of President Trump's personal finances and potential ties to Russia. They are also planning to closely scrutinize his policies on immigration, education, and health care, but are wary of immediately pursuing impeachment, concerned that such a move would undermine lawmakers who represent the districts that President Trump won in 2016.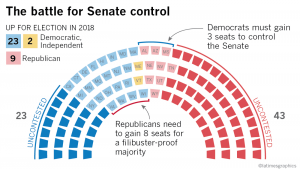 In response to these plans, Trump said, "If they want to go down the presidential harassment track, if they want to go and harass the president and the administration, I think that would be the best thing that would happen to me. I'm a counter-puncher and I will hit them so hard they'd never been hit like that." He also threatened a political landscape that would be "warlike."
The midterm results also brought in a transformative diversity to the House of Representatives. The new Democratic majority will include more women and is now more racially diverse, with several history-making members. Sharice Davids, a former White House fellow from Kansas, is the first lesbian Native American to be elected to the House. Ilhan Omar, a Democratic state legislator in Minnesota, and Rashida Tlaib, a Democratic former state legislator in Michigan, became the first Muslim women elected to Congress. Ayanna Pressley will become the first African-American woman to represent Massachusetts in Congress. Alexandria Ocasio-Cortez, 29, became the youngest woman elected to Congress, who defeated a white male incumbent who had served 10 terms in a Democratic primary. She will represent New York's fourteenth District, which includes parts of Queens and the Bronx. Kyrsten Sinema, a three-term Democratic congresswoman, will be the first female senator of Arizona and the first openly bisexual senator in the country.
In governors' races, Jared Polis, a Democratic congressman in Colorado, became the first openly gay man elected as governor in any state. Kristi Noem will be the first female governor of South Dakota.
Some races were not called right away. Florida recounted votes in both the governor and Senate races, both falling within a margin of 0.5 percent. After the recount, Republican Ron DeSantis took the win for Governor and Republican Rick Scott won the Senate seat. Recounts were also held in Georgia where, Democratic governor candidate, Stacey Abrams refused to concede. In the end, Republican Brian Kemp defeated Abrams with 1,978,408 votes versus her 1,923,685.