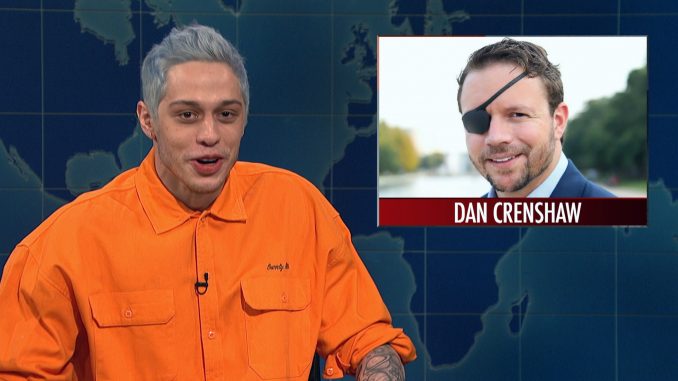 Tara O'Leary, Staff Writer |
SNL star Pete Davidson has received a lot of criticism for his appearance on the comedy show's episode that premiered on November 3. Much of the criticism came in response to his jokes about the former Navy SEAL, Dan Crenshaw, but some began circulating before the episode even aired. In the show's promotional video, Davidson jokingly proposed to musical guest Maggie Rogers, to which she answered "no," which came shortly after his split with Ariana Grande, and many fans on social media were upset by the joke. On his "Weekend Update" segment, Davidson briefly addressed the break up, saying, "I genuinely wish her all the happiness in the world." This sentiment aired as part of the same segment in which Davidson joked about Crenshaw.
With the midterm election just days away, Davidson poked fun at various candidates. He joked about Congressman Peter King, saying that King looks like "a cigar came to life." Davidson also made fun of Governor Andrew Cuomo; "he looks like a guy that's sleeping with your mom, but stays overnight and eats breakfast with you in his boxers," Davidson had said. Then Davidson moved on to Dan Crenshaw, a Texas Republican who wears an eyepatch due to an injury from an I.E.D. explosion in Afghanistan. "You may be surprised to hear he's a congressional candidate from Texas and not a hit man in a porno movie," said Davidson. "I'm sorry I know he lost his eye in war or whatever."
The joke was widely disapproved of by other elected officials, political organizations, and viewers. The National Republican Congressional Committee demanded an apology in a statement saying, "Getting dumped by your pop star girlfriend is no excuse for lashing out at a decorated war hero who lost his eye serving his country. Pete Davidson and NBC should immediately apologize to Dan, and to the millions of veterans and military families who tune in every weekend — because they're not laughing." When Davidson's cast mate, Kenan Thompson, appeared on the Today Show he agreed that the joke "missed the mark."
After the criticism Davidson received he returned to SNL the following week, appearing on the same segment and issuing an apology. "I mean this from the bottom of my heart. It was a poor choice of words," he said. "The man is a war hero, and he deserves all the respect in the world." Following the apology, Crenshaw came and took a seat next to Davidson, taking a few shots at the comedian himself. During the skit his cellphone rang with the ringtone set as "breathin" by none other than Ariana Grande, Davidson's ex-fiancé. When Davidson pointed out who was singing, Crenshaw replied, "Do you know her?"
Later in the skit, Crenshaw joked that Davidson "looks like a troll doll with a tapeworm" and compared him to "Martin Short from The Santa Clause 3." Aside from the jokes being thrown around, the politician accepted Davidson's apology. "There's a lot of lessons to learn here," said Crenshaw, "Americans can forgive one another. We can remember what brings us together as a country and still see the good in each other." Dan Crenshaw also took this as an opportunity to then bring attention to other veterans, stating, "This is Veterans Day weekend. Which means that it's a good time for every American to connect with a veteran. Maybe say, 'Thanks for your service.' But I would actually encourage you to say something else. Tell a veteran, 'Never forget.' When you say 'never forget' to a veteran, you are implying that, as an American, you are in it with them."
SNL's move to have Dan Crenshaw on the show for a skit and a public apology has received a lot of praise from the media. With the large positive response, some have taken to Twitter to remind people that back in August it was revealed that Crenshaw had been listed as an admin of the Facebook group "Tea Party," which had consisted of racist posts and far-right conspiracy theories. "The Dan Crenshaw bit on SNL was great, but don't forget that a few months ago he was an admin of a racist facebook group," tweeted one user. Crenshaw had shared two of his campaign videos with the group and is no longer listed as an admin.