Katie Hèbert, Staff Writer |
Even if you didn't grow up in the 1970's, you've definitely played and danced along to the hit song "Bohemian Rhapsody" from famous rock band Queen. As of November 2, there is a whole movie sharing the same name of the six minute ballad that narrates the life of lead singer, Freddie Mercury.
"Bohemian Rhapsody," directed by Bryan Singer, is a biopic of Freddie Mercury, born as Farrokh Bulsara, documenting the lead singer's life alongside the British rock and roll band, Queen. The movie follows Mercury's life through forming Queen to their famous Live Aid performance at Wembley Stadium in 1985.
While the pacing of storylines differ from medium to narrative, which many critiques of the film complain about, "Bohemian Rhapsody" excelled at being as accurate as possible to the true life of Mercury and the successes of Queen, and also succeeded at casting, clothing, and specific moments and costumes. While some of Mercury's antics in the film, such as heavy partying and sexual relationships were dramatized, including his relationship with partner and manager, Paul Prenter, the film followed an accurate timeline of the 45-year-old star for a 148 minute movie.
Many previous narratives or representations of Freddie Mercury depict him as a gay icon and end up white-washing him and his Zanzibar-born identity. However, this movie recognizes his cultural background in which we see his home life and his relationship with his parents and sister. The movie also touches on Mercury's bisexual identity, having him address his questioning sexuality to his fianceé, Mary Austin, to which she responds by erasing his polysexual attraction and assures him that he is just gay. The accuracy towards Mercury's consistently erased cultural heritage, Zoroastrian religious background, and sexuality is demonstrated in the film throughout, recognizing him for the identities he held.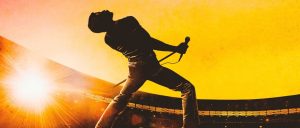 Through personal research after seeing the film, the details hold true to the timeframe that limits the film. It's important to recognize that Mercury, known for his loud and eccentric performances, was actually a very private person, and after passing away from complications with AIDS, he is not here to comment on his story. While Mercury's death is noted, and many relationships and successes are accompanied by heartbreaks and losses, the movie doesn't necessarily seem tragic, despite reviews from ScreenRant and Plugged In. Rather, it touches on the highs and lows of Mercury's incredible life. Other Queen members like Brian May, Roger Taylor, and John Deacon also worked on the film's production, and audiences need to recognize that there may be things they didn't know about Freddie, or things they didn't want to publicize on screen in protection of their own emotional health.
Rotten Tomatoes approves the film with a 62% rating based on 287 reviews, saying ""Bohemian Rhapsody"  hits a handful of high notes, but as an in-depth look at a beloved band, it offers more of a medley than a true greatest hits collection." Multiple audiences have given the film an A rating on an A+ to F scale on CinemaScore. As of November 11, "Bohemian Rhapsody" took home a worldwide total of $286.3 million in box office sales, two weeks shy of the release of the film.
If you're looking for a beautifully done narrative of a famous rockstar who wasn't afraid to be true to himself along with a movie that will make you sing and dance to the 70's hits your parents played for you growing up, "Bohemian Rhapsody" is that movie. It is a well-produced film that is true to the legacy of Freddie Mercury, making you fall in love with Queen all over again, and blast the band's biggest hits for a week after.