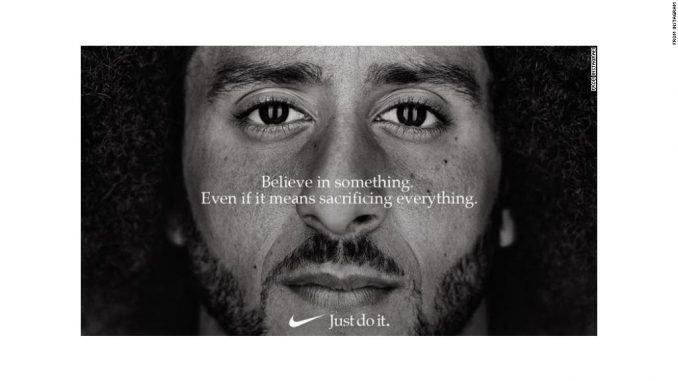 Casey Mcshea, Staff Writer| 
The release of Nike's new ads featuring former NFL quarterback, Colin Kaepernick, as the face of its "Just Do It" campaign has sparked backlash and controversy on several social media outlets, particularly Twitter.
Some users took to Twitter to share their frustrations about the ads, sharing videos and pictures of themselves burning or cutting off the signature Nike symbol on their apparel. One Twitter user, Sean Clancy, wrote, "First the @NFL forces me to choose between my favorite sport and my country. I chose country. Then @Nike forces me to choose between my favorite shoes and country. Since when did the American Flag and National Anthem become offensive?" The tweet was attached to a video of a pair of Nike shoes burning in the grass. President Donald Trump, who has historically been a very vocal critic of NFL players kneeling during the national anthem, also made a comment on Twitter, writing, "What was Nike thinking?"
Kaepernick has become known for being much more than an athlete since he sat during the national anthem before a preseason game against the Green Bay Packers in August 2016. His refusal to stand, as he spoke about in an interview with NFL Media after the 2016 game, was a protest of oppression against minorities in the United States.
"To me," Kaepernick said in the NFL media interview, "this is bigger than football and it would be selfish on my part to look the other way. There are bodies in the street and people getting paid leave and getting away with murder."
His silent protest caught fire as Trump attacked Kaepernick and other NFL players who followed Kaepernick's lead by kneeling or raising a fist during the pre-game anthem. In September 2017, at a campaign rally in Huntsville, Alabama, Trump suggested players who kneel during the national anthem should be fired, referring to one of the protestors as "that son of a b—h."
The movement has since gained both support and opposition from NFL owners, players, and fans. Nike's ad has only continued the controversy.
The ad features many famous athletes, including tennis star Serena Williams, Lakers Forward Lebron James, and Kenyan distance runner Eliud Kipchoge. Lesser-known athletes are also shown: Isaiah Bird, 10-year-old wrestler who was born without legs, and wheelchair-bound basketball player Megan Blunk. Kaepernick speaks throughout the ad via a voiceover.
"If people say your dreams are crazy," Kaepernick says before appearing in the ad, "if they laugh at what you think you can do, good. Stay that way. Because what nonbelievers fail to understand is that calling a dream crazy is not an insult – it's a compliment."
He tweeted out the ad on September 5, with the caption "Believe in something. Even if it means sacrificing everything."
Despite the attempted boycott of Nike products, others supported Kaepernick and the company's campaign. Ex-CIA Director John Brennan tweeted, "Colin Kaepernick drew our collective attention to the problem of continued racial injustice in America. He did so not to disrespect our flag, but to give meaning to the words of the preamble of our Constitution—'in order to form a more perfect union.' Well done, Colin, well done."
Nike sales have also seen a surge, despite consumers' attempts to boycott Nike and its products. According to TIME Magazine, Nike's endorsement of Kaepernick gave the company a 31 percent increase in sales from September 2 through September 4, over Labor Day weekend, a drastic contrast to the increased 17 percent from Labor Day weekend in 2017.   
Kaepernick has been out of the NFL and a free agent since March 2017.  Nike remains the official and exclusive provider of NFL apparel, with a deal set to run until 2028.