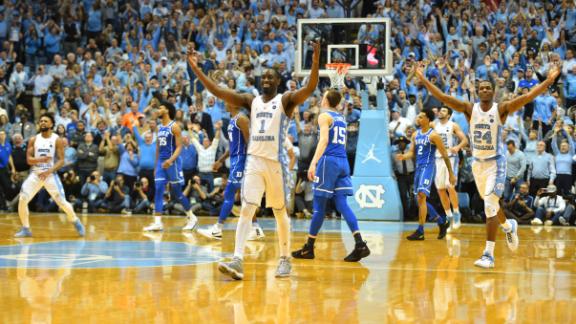 Wyatt Cushman, Staff Writer |
College basketball is one of the most exciting sports to watch. The unpredictability and passion of both players and fans alike give viewers at home an experience unlike any other sport. Rivalries like Duke-North Carolina and matchups of all-time great coaches like John Calipari and Bill Self allow for all this excitement. While all this still holds true, as seen in the amazing game between Duke and UNC just a week ago, this season in college hoops has been anything but ordinary.
By mid-February we normally have a very good idea of who the top teams in the country are as these same teams gain momentum to carry with them into March. However, top teams like Villanova, Virginia, Purdue, and Duke have all lost games recently, nullifying some or all momentum they may have had.
In the last week, the College basketball elite have each endured a fair amount of chaos. Former number one ranked Villanova relinquished their top spot when they lost, at home, to unranked conference foe, St. John's, last Wednesday night. Nova had been ranked number one for several weeks, but the top spot along with a nine-game winning streak was lost.
The Wildcats weren't the only team to fall victim to St. John's. Just a few days earlier, the Red Storm beat fourth ranked Duke at Madison Square Garden, which no one, maybe not even St. John's themselves, saw coming. It wouldn't get any easier for Duke moving forward, as they had to travel to Chapel Hill and play their rival North Carolina, where it is never easy to walk away with a win. Duke fell to the Tar Heels, losing their second straight game and their fifth overall.
Another top five team to lose recently was Purdue. Purdue has appeared to be one of the most consistent teams all season long, but they too lost consecutive games in the span of a week, falling from third to sixth in the latest rankings. First it was Ohio State who upended the Boilermakers at home. Ohio State has struggled to be competitive in recent years, but proved they are the real deal this season by beating Purdue. Next, Purdue had to face the always dominant and excellent Michigan State Spartans. This game, like the Ohio State game, was a close one until the end. Yet again, Purdue found themselves losing when the final buzzer sounded. Purdue's losses were against two solid teams, so their fans shouldn't worry, but nonetheless two losses in a row was shocking to everyone.
The final team ranked in the top five to lose this past week was the Virginia Cavaliers. The Cavaliers had lost just one time before last Sunday night, but Virginia Tech didn't care and marched right into John Paul Jones Arena and beat UVA in overtime. Even with the loss, Virginia still holds the top ranked spot in the country, and their defense is among the best in the country, which should give them confidence moving forward.
We couldn't have expected all these teams to remain undefeated until the NCAA Tournament rolls around in March, but we never could have imagined this many top teams losing all in the same week. That's what is so great about the game of basketball at the collegiate level. Any team can win on any given night, and there are several teams who could make a run at a title in March. So buckle your seatbelts, we're in for a wild ride.